Datatag Latest News
Tweet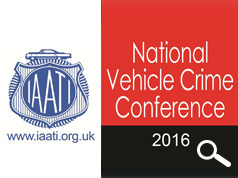 DATATAG SPONSOR IAATI UK
The International Association of Auto Theft Investigator's (IAATI) UK Branch has announced details of their 2016 National Vehicle Crime Conference at which Datatag ID Limited will be silver sponsors.
Datatag's team will be on-hand during the event, which will be held at Holywell Park, Loughborough on the 8th & 9th June, to exhibit and demonstrate the latest security marking technologies at this very important event. Datatag has actively supported IAATI and their global conferences and the Datatag team have already made presentations at two international IAATI conferences this year, in Thailand and Argentina.
IAATI is the global body set up to fight international vehicle crime and their conferences give an opportunity to those engaged in the prevention, reduction, disruption, investigation, detection or enforcement of vehicle related crime and fraud to meet, discuss and learn about the latest world-wide threats and prevention measures.
IAATI UK's organisers use the events as a platform to form world-wide partnerships with trusted organisations that provide intelligence and security products. With a healthy cross section of key players from the motor industry, motorcycle manufacturers and distributors, the road haulage industry, and the insurance and asset finance industry the IAATI event is a vital source of shared intelligence on all the latest security threats and developments.
This year's 2 day conference adopts a new format which includes class room training and awareness' sessions. Datatag's Police Liaison and Training Officer Nick Mayell will lead one session at which he'll give a live demonstration of chemical and thermal identification recovery. This will give delegates a taster to the accredited courses that Nick hosts at the AITS training centre in Cirencester.
Datatag's Managing Director, Kevin Howells, will be amongst the key note speakers on the second day of the event. He will present the latest security innovations and developments powered by Datatag technologies to the 150 delegates. Datatag has the unique experience of managing and supplying 3 industry-wide security marking and registration schemes. The MASTER Scheme for the motorcycle market, the COMPASS Scheme for the Marine market and the CESAR Scheme, the world's most successful security marking and registration scheme, for the construction and agricultural market.
The CESAR Scheme in particular will be highlighted for its success in reducing equipment theft as it is widely regarded to have contributed to a 70%+ reduction in the UK. Mr Howells will also announce the latest developments for the Micro-CESAR system which is designed to protect smaller hand-held power tools.
IAATI is extremely important to the global community in the fight against vehicle crime, especially in today's climate of diminished budgets and stretched resources. It's crucial that countries engage together to tackle the organised criminal networks that profit from vehicle related crime and fraud. The two days will also be a great opportunity for sponsors, key-note speakers and exhibitors to engage and network with the delegates.
For further details, visit www.iaati.org.uk