Datatag Latest News
Tweet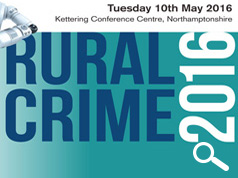 DATATAG SUPPORT THE NATIONAL RURAL CRIME SEMINAR 2016
Datatag ID Limited, the number one provider of global security marking initiatives, will be supporting the Rural Crime Seminar hosted at Kettering Conference Centre, on May 10th. Datatag's Strategic Alliance Manager Dave Luscombe, will present the latest Datatag developments and initiatives to the delegates attending.
Effective and responsible crime prevention enhances the quality of life for all communities – particularly those hardest hit such as the rural one. It has long term benefits in relation to reducing the costs associated with the criminal justice system, as well as other social impacts that result from crime.
Now in its fifth year, this year's National Rural Crime Seminar will focus on the prevention of crime within rural communities.
Delegates will hear from a range plenary and workshop speakers who will deliver case studies demonstrating how partnership working and the use of technology has been effectively utilised to help reduce instances of crime in rural communities.
Datatag ID Limited has been instrumental in some of the most powerful crime prevention initiatives in recent years. The development and adoption of security marking systems to protect agricultural and construction equipment, marine craft and engines, motorcycles, quad-bikes, cycles and trailers has led to significant reductions in thefts and increased recovery of stolen marked property.
Datatag is also active in many groups including the Combined Industries Theft Solutions (CITS), the Motorcycle Crime Reduction Group (MCRG) and is in frequent dialogue with police and law enforcement agencies about security marking technologies and databases throughout the world.
The day will provide an excellent opportunity to network with peers and to view many of the new and innovative technologies currently on the market.