Datatag Latest News
Tweet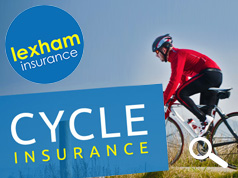 LEXHAM INSURANCE
Source: http://www.scotland.police.uk
Lexham Insurance, known to millions of motorcyclists for their class leading motorcycle and scooter insurance are now offering cycle insurance with the added bonus of a 10% discount if you have Datatag fitted to your cycle!
The Norfolk based broker has been a major force in the motorcycle and scooter insurance market and sees the growing cycle market as a natural next step. However they are keen to bring their 'no nonsense' insurance model to the sector, offering simple affordable insurance to all cyclists, with the option of adding on specific cover so that the final insurance product is bespoke for each customer.
However one of the most significant offerings from Lexham is a 10% policy discount for the installation of the market leading Datatag security marking system on the bike. As a proven theft deterrent system, installing Datatag will significantly reduce the risk of a bike being stolen - a win for the owner and a win for the insurer.
Lexham Marketing Director Andy Goodson is delighted with the new partnership with Datatag, "Having worked with Datatag in the motorcycle sector for many years, and having seen the difference that the system can make to the risk of theft, securing a partnership in the cycle sector was a key goal for us when we launched our cycle product." he explained,
"I am confident that not only will this discount attract new business, but it will also pay us back many fold through the significant reduction in theft that our customers will experience."
Dave Luscombe from Datatag is equally pleased with the new partnership, "Working with insurers is a key part of what Datatag is about - adding value to our product and, in a way, rewarding our customers for investing in common sense protection for their bikes. Our relationship with Lexham goes back years in the motorcycle sector so we are delighted to have their support in the growing and very exciting cycle sector too!"
Underlining their support for Datatag, Lexham Insurance have also recently won the business of long time Datatag customer Batribike. The Lincolnshire based electric bike company has been fitting Datatag as standard to their range of e-bikes (www.batribike.com) for the last two years and now, through Lexham, offer a bespoke insurance offering for Batribike e-bikes.
Batribike Director Sue Coulson is delighted to have secured Lexham as their insurance partner,
"Installing Datatag on all of our new bikes has been a real success for Batribike. It gives our customers peace of mind and has had a positive impact on the theft of our bikes. Our insurance partnership with Lexham has been helped enormously by our use of the Datatag system, allowing us to provide an even more valuable cycling package to our new and existing customers"