Datatag Latest News
Tweet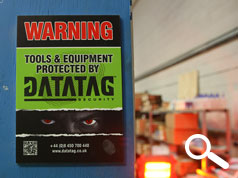 MERSEYLINK SAY NO TO THEFT
The Merseylink consortium was appointed as the project company to design, build, finance and operate the Mersey Gateway Project in March 2014 and now Merseylink has teamed up with leading security marking and registration company Datatag ID to fight against crime on the project.
Work started on the Mersey Gateway Project in spring 2014. In autumn 2017 a new six lane toll bridge over the Mersey, between the towns of Runcorn and Widnes, will open to relieve the congested and ageing Silver Jubilee Bridge.
Datatag ID Limited is the power behind the official CESAR Scheme, the world's leading security marking and registration system for construction, industrial and agricultural equipment. CESAR is fitted on production lines on 3 continents and now protects over 200,000 pieces of equipment. The 'CESAR effect' has helped reduce equipment theft in the UK by over 70% since it was introduced in 2007.
With criminals employing increasingly sophisticated levels of technology to attack valuable company assets within the construction and utilities sector it is getting harder for managers to protect company assets. Construction joint venture Merseylink Civil Contractors is one of many companies impacted by audacious and opportunistic thieves who cost the company tens of thousands of pounds each year through direct loss and consequential delays.
Merseylink together with Datatag identified that theft and asset management issues could be addressed by implementing a 'doubled layered' solution using 'ultra-destruct' labels with a unique bar code and stealth UV etching, invisible security marking that thieves simply cannot remove.
To date Merseylink has protected many items of small equipment such as mobile and hand held power tools with the Datatag 'ultra-destruct' labels. To act as an added deterrent against theft the large construction site and Merseylink premises now display large warning signs highlighting the Datatag deterrent and warning thieves of the risk of being caught red-handed with marked equipment.