Datatag Latest News
Tweet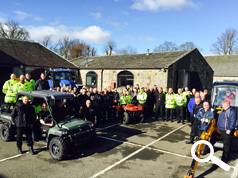 POLICE UP TO SPEED ON CESAR SCHEME
Source: www.eladvertiser.co.uk
MECHANICS and police officers in Scotland are being brought up to speed on the CESAR (Construction & Agricultural Equipment Security Register) marking scheme to deter the theft of plant, agricultural and construction vehicles.
Statistics show a CESAR-registered vehicle is four times less likely to be stolen but if the worst happens, it is six times more likely to be recovered.
Each CESAR registered vehicle is fitted with highly-visible, tamper-evident identification plates, Datatag transponders, unique Datadots concealed in the machine and an invisible forensic DNA marking solution.
Quad bike and all terrain vehicle (ATV) theft is one of the key priorities identified by SPARC (Scottish Partnership Against Rural Crime) group.
More than 80 per cent of quad bikes stolen in Scotland are snatched in Lanarkshire, Lothians and Scottish Borders, Ayrshire and Fife. Policing teams are working with partners in prevention, intelligence gathering and enforcement.
Officers have already seen a reduction in the number of thefts and the CESAR scheme is providing even more peace of mind for owners.
Chief Supt Gavin Robertson, SPARC chairman, said: "Police Scotland is pleased to have delivered training events with the CESAR scheme and Datatag. SPARC members have been very encouraged by the reductions in the theft of quad bikes and all terrain vehicles so far but we are determined to do more to prevent this type of crime and further reduce its impact on farming, forestry and rural communities.
"Our vision is to have all new quads and ATVs sold in Scotland fitted with CESAR as a first line of defence to deter thieves and reduce the desirability of stolen vehicles on the illicit market."