Datatag Latest News
Tweet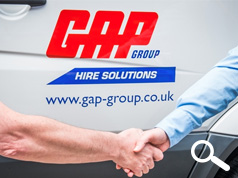 DATATAG TO SHOWCASE MICRO-CESAR AT THE ANNUAL GAP CONFERENCE
GAP Group, the national equipment hirer with over 120 locations across the UK and a large fleet of tools and equipment, has this week announced plans for their annual conference which will take place on 12th May at the Hilton Hotel, Gatwick Airport.
Datatag ID Limited has been invited to take part in the day's activities at this 'invitation only' event to showcase their industry leading security initiatives; the official CESAR Scheme and the newly launched Micro-CESAR System.
The official CESAR Scheme, a security system for construction and agricultural equipment, is powered by Datatag technology and comprises of RFID tags, warning labels, liquid DNA and Datadots. CESAR is fitted by many leading equipment manufacturers including JCB, John Deere, Massey Fergusson, Manitou, Doosan, Terex and many more.
Leading insurance companies also support the scheme, which since it was launched in 2007, has contributed to a 57% decline in equipment theft, and offer insurance discounts of up to 25% for all CESAR marked equipment.
Iain Anderson, Joint MD at GAP Group, is so impressed with the power of Datatag technologies to reduce theft, that he has recently endorsed them as part of an Executive Hire News Road Show. Iain also made the decision to invite Datatag along to their own annual conference as guest speakers to highlight the success of the CESAR Scheme and to demonstrate the new Micro-CESAR System.
Micro- CESAR, launched in November 2015 at the Combined Industries Theft Solutions Conference (CITS) has been developed to specifically prevent the theft of small tools. Like the official CESAR Scheme, the new Micro-CESAR System is set to make the same impact in the fight against crime protecting hand held tools such as cut off saws, small compaction plates, power drills and a variety of landscaping equipment.
Micro-CESAR has already been recognised for its' anti-theft qualities and also for the added bonus of its integrated unique QR code which can be linked to mobile enabled websites. This helps hirers such as GAP manage assets and customers to access health and safety advice and user manuals on-line.
The GAP Group conference will give the invited companies an opportunity to promote and demonstrate innovative products to the expected 260 delegates which will include account managers, company directors and staff from GAP Group.