Datatag Latest News
Tweet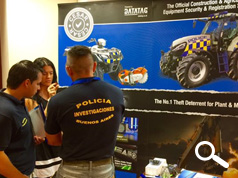 DATATAG TO PRESENT AT IAATI CONFERENCE IN ARGENTINA
Representatives of Datatag ID Limited are set to attend the global IAATI Conference in Argentina this week. With Managing Director Kevin Howells set to present the latest security initiatives and developments powered by Datatag's leading technologies to the 150 expected delegates. The president of IAATI, Mr Renato Schipiani, has invited representatives from Datatag to attend following the well-received presentation that was given at the global Interpol conference of vehicle crime last month in Bangkok.
IAATI is the global body set up to fight international vehicle crime and the conference gives an opportunity to those engaged in the prevention, reduction, disruption, investigation, detection or enforcement of vehicle related crime and fraud to meet, discuss and learn about the latest world wide threats and prevention measures.
Kevin Howells will be presenting to delegates from countries including Brazil, Mexico, Chile, Peru, Venezuela and Paraguay and will detail the latest developments of the Datatag security initiatives.  These include the MASTER Scheme for the motorcycle market, the COMPASS Scheme for the marine market and the CESAR Scheme, the world's most successful security marking and registration scheme, for the Construction and Agricultural market.
The Datatag presentation will be given on the first day of the three day conference, 9th March, to the 150 delegates who will also have an opportunity to network and share experiences throughout the event.
The CESAR scheme in particular will be highlighted for its success in reducing theft, contributing as it has to a 70%+ reduction in equipment theft in the UK. Mr Howells will also announce the developments regarding the newly launched Micro-CESAR system designed to protect smaller hand held power tools.
IAATI is extremely important to the global community in the fight against vehicle crime, especially in today's climate of diminished budgets and stretched resources. It's crucial that countries engage together to tackle the organised criminal networks that profit from vehicle related crime and fraud.