Datatag Latest News
Tweet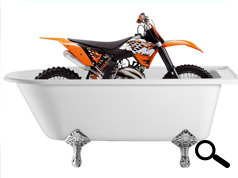 MOTORCYCLE FOUND IN A BATH IDENTIFIED!
Avon and Somerset Police were at a loss to identify a KTM found in suspicious circumstances in Bristol earlier this year, even going so far as to post pictures on Facebook to see if anyone recognised it. Police interest was aroused when the machine was found to have no visible markings and the fact that it was discovered during a raid, upstairs and in a bath!
On inspection the police found both the frame and engine numbers had been completely ground out giving them little to go on in identifying it. Even normal forensic recovery techniques failed to produce any clues as to the rightful owner.
Paul Wheeler, Avon and Somerset Vehicle Examiner said 'It had been eight weeks since it was seized and with both of the main ID numbers removed we were at a dead end. If we couldn't confirm its identity then we would have to return it to the suspect, even though we knew it was stolen.'
It was then that Paul called Nick Mayall, Police Liaison Manager with Datatag, security marking experts and the providers of technology to the motorcycle industry MASTER Scheme, for help.
Nick said 'It was a shame the bike hadn't been fitted with the MASTER Scheme as this 8 week job would have taken 8 minutes! That said with KTM's help we were finally able to identify the machine and confirm that it had indeed been stolen from Surrey in March this year.'
The owner who wished to remain anonymous said 'When I got the call from the police saying they had found and identified my bike I was over the moon. Honestly after such a time I didn't think I'd ever get it back!'
KTM motorcycles now fit the industry standard MASTER Security System which contains technologies to make identification of seized machines far easier including tamper evident warning labels, rfid transponders, stealth UV etches and Datadots.
Paul Wheeler said 'Without KTM and Datatag's help we would not have been able to identify the machine. The benefit to the police of the MASTER Scheme cannot be overstated. Having to return stolen property to suspects simply because we cannot identify the real owner is always frustrating. With motorcycles at least we now have the tools in the MASTER Scheme to ensure criminals are prosecuted and machines are reunited with owners.'
The offender has since appeared at Bristol Magistrates and pleaded guilty to receiving stolen goods. He has received a fine and unpaid community service.