Datatag Latest News
Tweet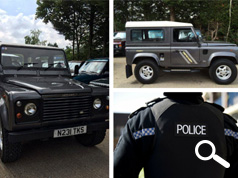 LAND ROVER DEFENDER OWNERS WARNED ABOUT PARTS STRIPPING FEARS AFTER COLEFORD THEFT
Source: http://www.somersetguardian.co.uk
Land Rover Defender owners are being warned to increase security amid fears the iconic 4x4s are being stolen for parts.
Gangs of thieves are being blamed for a recent rise in thefts with claims parts are being stripped before being shipped to Eastern Europe.
Somerset drivers are being warned of the risks after a Defender owner from Coleford had her vehicle was stolen from outside her Church Street home on Wednesday (March 2).
It was stolen at some point between 6.30pm and 10.30pm.
She discovered her vehicle was missing the following morning when she spotted another car parked in the space where it had been left the night before.
The owner, a mum of young children who runs her own business using the vehicle, was able to establish the timeframe for the theft after speaking with the owner of the car she found parking in the space who told her when he parked up.
There are fears the rise in thefts have been prompted by the fact the production of the 4x4 ceased after 33 years at the end of January.
Police are warning drivers that they need lock up their vehicle at night and security mark every part and display a sign to say the parts have been marked to try to ward off potential thieves.
Last week police in Gloucestershire gave a warning after reporting a surge in from or of Land Rover Defenders in the county, while Hampshire police have reported at least three incidents where bonnets, seats, front grilles, headlamps and doors have been stripped from Land Rover defenders, leaving just the chassis, wheels and engine.
The problem is so bad and specific to Land Rover Defenders that Datatag, the technology partner to official security marking schemes in agriculture and construction, has developed a new system just for Land Rover Defender owners to mark each part.
Chris Harrison from Datatag said: "Police warn owners that as these parts are not numbered they are completely untraceable once removed from the original vehicle.
"In fact the complete shell from one car can be transferred to another in a matter of hours.
"Thieves love it when they can steal something with little or no risk to themselves - something which can't be identified should they be stopped and they can get away scot free.
"Our technologies ensure that even when stripped from the original car, bonnet, doors, grills etc can be identified by the police and successful prosecutions secured.
"With our work in the construction, marine and especially motorcycle sector, thieves know that Datatagged parts are literally 'too hot to handle'."
Anyone with information on the Coleford theft is asked to contact Avon and Somerset Police on 101 quoting crime reference number: 5216046311