Datatag Latest News
Tweet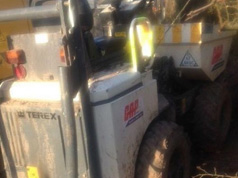 CHESTER TODAY NEWS ARTICLE - RURAL TRACKER FINDS DUMPER IN NORTHWICH
News Source:
http://www.cheshire-today.co.uk
Officers from Northwich Local Policing team have recovered a stolen vehicle worth £15,000.
The Terex Dumper, which was fitted with CESAR and a tracker system, was recovered from land in Aston-By-Budworth near Northwich.
The discovery came after officers from Northwich CID officers were notified of a "tracking activation" on a stolen Terex Dumper Truck which had been reported stolen from Sheffield, South Yorkshire, on the 19th December 2015.
Following the notification officers were able to locate the stolen  truck in an isolated rural area in Aston-By-Budworth. Thanks to the CESAR marking scheme officers were easily able to confirm the identity of the vehicle.
PC Mike Dawber, Cheshire SVS officer who attended the Datatag Plant & Agricultural Machinery Identification course last year said "The piece of equipment was registered stolen with South Yorkshire Police and had a value of around £15,000.
"It just shows how effective fitting your equipment with the CESAR Plant and Agricultural Machinery marking scheme is along with a Thatcham approved tracking device. The dumper truck will be returned to its rightful owner."