Datatag Latest News
Tweet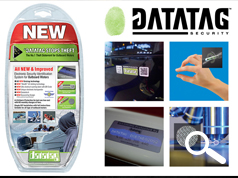 RYA MEMBER DISCOUNT - PROTECT YOUR OUTBOARD WITH DATATAG
News Source:
http://www.rya.org.uk/
http://www.whatboat.com/news/latest-rya-member-offers-10
The RYA has teamed up with DATATAG to offer RYA members 25% off the RRP of a DATATAG Outboard Motor Theft Deterrent System – now just £29.99.  
Thousands of outboard motors are stolen each year with thieves often causing considerable damage in the process. Datatag's Outboard Security System combats this menace using a unique layered approach to identity marking.   
Datatag's technologies, almost impossible to remove, are well known by thieves who are fully aware that if caught the true ownership of an outboard can be quickly determined via the 24/7 Secure Contact Centre.  This provides a powerful deterrent against theft and for the Police an invaluable aid to recovery in the event of a theft.  
Datatag technologies meet the "Secured by Design" standard, the Association of Chief Police Officers preferred specification for security marking and include:  
Glass Tag Transponder - permanently programmed ID which cannot be altered or deleted
Datadots® - these superior Datadots® mark components such as electrics, fuel system and the engine itself
Ultra-destruct Warning Label - Featuring a unique number, the tamper evident warning labels, with "stealth" UV etching and QR code, permanently mark the engine even if damaged or removed
Tamper Evident Label - specially designed these labels are impossible to remove without damage and contain a unique ID number and QR code to warn off potential thieves 
The combination of these Datatag technologies provide a unique identity to all outboards, virtually impossible to remove however hard a criminal may try, and provide owners with added peace of mind.    
For more information and to claim your RYA member discount visit the DATATAG member benefits page.