Datatag Latest News
Tweet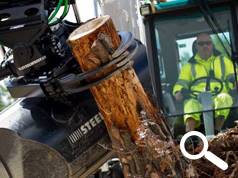 STEELWRIST ANNOUNCE STANDARD FITMENT OF CESAR
Swedish company Steelwrist has today announced that they will be fitting the number one security marking and registration scheme, CESAR, as standard on their wide range of agricultural and construction attachments in the UK.
Steelwrist is currently the fastest growing manufacturer of Tiltrotators in the world and already fit CESAR as standard in Sweden. They pride themselves on having a dedicated focus on robust and modern products, combined with an efficient, customer focused, service which is the driving force for adopting CESAR.
Pat Bulcock, MD of AgCon Machinery Services, the UK importer for Steelwrist Tiltrotators and Quick Couplers, and agent for Novatron Machine Control Systems had this to say at the announcement, "At AgCon we've taken this step to promote and fully endorse CESAR and the Datatag technology it contains as our customers are investing significant amounts of money in their business with our products and it's only right and fair we offer them a product which safeguards their machines and work. The knock-on effect of having a machine stolen has far reaching consequences on the job being completed on-time and within budget. Prevention is better than cure and by having a machine fitted with Datatag's CESAR Scheme it immediately becomes less attractive to steal. There is the additional bonus that several insurance companies will offer a reduction in premiums with machines that have CESAR fitted."
Ag Con UK Ltd was founded in 2005 with the belief and conviction that there are smarter, safer and more efficient ways of working and this is demonstrated through their adoption of CESAR
CESAR, powered by technology from Datatag ID, is the number one anti-theft system for construction and agricultural equipment and it's power as a theft deterrent is well recognised. The police have reported a six-fold decrease in machine theft since it was launched in 2007 and stolen CESAR marked equipment has a much higher rate of recovery than unmarked equipment as the police become better trained and aware, enabling them to spot the tell-tale signs of theft.
The CESAR system uses a range of state-of-the-art Datatag technology to give each piece of equipment a unique fingerprint and can only be fitted by accredited and fully trained technicians. Once a machine is CESAR marked and registered it is protected for life with no further annual fees or subscriptions. All leading insurers, including the NFU Mutual (National Farmers Union) support the scheme so much that they offer up to 25% discounts on all CESAR marked equipment and machinery.
For further details visit the CESAR stand at Lamma, Hall 5 stand 574 or visit www.datatag.co.uk