Datatag Latest News
Tweet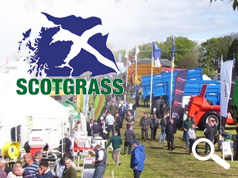 DATATAG TO EXHIBIT AT SCOTGRASS 2016
Datatag ID Limited, the power behind the official CESAR Security and Registration Scheme, will be exhibiting at next year's ScotGrass - the one day agricultural event taking place on Tuesday 14th May at Crichton Royal Farm, Dumfries, Scotland.
ScotGrass provides a unique opportunity to not only see the latest equipment at work, but also to discuss new ideas with leading industry experts. The working demonstrations of grass conservation machinery, products and services will feature several new developments. Datatag ID Limited will be amongst the exhibitors with something new to offer as not only will they be exhibiting the official CESAR Scheme,, the number one security system for plant and agricultural equipment but also their latest innovation Micro-CESAR.
Micro-CESAR was launched at the recent Combined Industries Theft Solutions Conference (CITS) hosted at JCB's World Headquarters in November. Micro-CESAR has been launched as a response to calls from the Construction Equipment Association (CEA) and the Agricultural Engineers Association (AEA), to address the issues faced by leading insurers, end-users and industry bodies who are suffering the effects of the increase in small tool theft.
Micro-CESAR, like the official CESAR Scheme for larger equipment, uses Datatag technology including  unique RFID transponders and  warning/registration labels with  integrated QR codes. It is designed to have the same effect that the CESAR Scheme has had in deterring theft and assisting  recovery.
CESAR has contributed to a 70+% reduction in the theft of large construction equipment since it was launched in 2007and Micro-CESAR is poised to make a similar impact protecting small construction and landscaping equipment such as power tools, cut-off saws, hand-held hydraulic breakers and compaction plates.
As an added bonus to many users the technology in the Micro-CESAR system can also be used to easily access on line health and safety advice and user manuals through the unique QR code and mobile enabled Micro-CESAR website.