Datatag Latest News
Tweet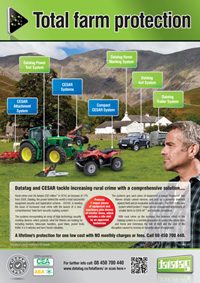 DATATAG TACKLE INCREASING RURAL CRIME WITH A COMPREHENSIVE NEW SOLUTION - 'TOTAL FARM PROTECTION'
12 August 2011
Rural crime cost UK famers £50 million in 2010, according to a survey conducted by NFU Mutual, up 17% on 2009. The top five most stolen items are tools, quad bikes, tractors, oil and diesel, and metal. The number of tractor theft claims dealt with by NFU Mutual rose by 8% in 2010, whilst the cost of claims increased by a massive 21% reflecting the trend for thieves to steal high value tractors. The police report that most tractor thefts are by organised gangs with equipment 'stolen to order' for export to Eastern Europe, Africa, and the Middle East.
Datatag ID Limited, the power behind the world's most successful equipment security and registration scheme-CESAR, is tackling the issue of increased rural crime with the launch of a comprehensive new solution called 'total farm protection'.
Incorporating an array of high technology security marking devices including Radio-frequency identification (RFID) transponders, forensic liquid DNA, microscopic Datadots®, and, UV stealth etching technology the new Datatag 'total farm protection' system can protect what thieves are looking for including tractors, telescopic handlers, quad bikes, tools, trailers, 4 x 4 vehicles and farmhouse valuables.
The Datatag security marking system gives each piece of equipment a unique 'fingerprint' that thieves simply cannot remove. The 'total farm protection' system acts as a powerful deterrent against theft and an invaluable aid in recovery. Datatag and CESAR are well known to criminals who regard marked equipment as 'too hot to handle'.
The Datatag 'total farm protection' system, which can protect 7 major pieces of equipment and dozens of smaller items, consists of:
2 CESAR systems for tractors or telescopic handlers
1 Compact CESAR system for a quad bike or ATV
1 CESAR attachment system for an agricultural attachment like a muck rake or bucket
1 Datatag 4 x 4 system for any make of 4 x 4 vehicle
1 Datatag trailer system for an agricultural trailer or horse box
1 Datatag home/farm marking system
1 Datatag power tool system
The recommended retail price (RRP) of the new system is £929.40 (excluding VAT). The price includes installation by a trained CRB vetted technician.
The Datatag 'total farm protection' system is convenient to install with a minimum of fuss. Datatag has a network of fully trained and CRB checked installers across the UK who can quickly protect a farm, the family home, and valuable and critical equipment. Proof of ownership and the original registration documents are required for vehicles protected under the CESAR scheme.
CESAR, the only official UK equipment security and registration scheme, became the most successful and widely used scheme in the world at the turn of the year after achieving 15,000 registrations in 2010 taking the cumulative figure to 40,000. Now, just 7 months later, CESAR has achieved another 20,000 registrations, bringing the total number of machine registrations to 60,000!
With rural crime on the increase, the deterrent effect of the Datatag 'total farm protection' system is a sensible precaution to protect the farm and family home and a sound business decision to minimise the risk of theft and the cost of the disruption caused by loosing an essential piece of equipment.