Datatag Latest News
Tweet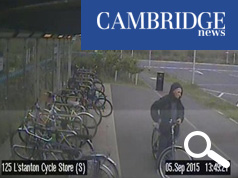 LYCRA-CLAD MEN TARGET HIGH-VALUE CYCLES IN CAMBRIDGE AS POLICE RELEASE CCTV IMAGES
Bike thieves are now going disguised as keen cyclists wearing full lycra suits and helmets in Cambridge to steal high-value cycles.
The scourge of cycle theft has led to a new task force being created to tackle the crime and the News has teamed up with police to help bring criminals to justice.
Now criminals are dressing up in lycra to pose as legitimate cycle buyers in an effort to hoodwink victims.
The news comes as police release CCTV images of two men they want to speak to in connection with the theft of two bikes worth a total of £4,300 from a popular cycle store in the city.
The theft happened at Station Cycles in Barnwell Road and police have released another image of a man in a hoodie they want to speak with in connection with a bike theft at Longstanton guided busway.
A spokesman for Station Cycles said: "They came in and were obviously trying to look completely like legitimate cyclists. The bikes are worth £2,800 and £1,500."
Sgt Chris Horton, who has set up a new task force to tackle bike crime, has launched an appeal for information to track down the thieves and believes criminals intent on stealing are donning lycra and cycle helmets to blend in to their surroundings and avert suspicion.
He said: "This doesn't happen every day but clearly that is the suspicion here and why we would very much like to have identified these two persons and speak with them about this report."
"More common I would suggest is the type of CCTV from the guided busway of grainy CCTV image of persons wearing hoodie type clothing in an attempt to hide their appearance and avoid identification."
More than 11,000 bikes have been stolen in Cambridge in five years and the offense now makes up 20 per cent of all crime in the city.
A Cycle Crime Task Force Group involving representatives from Cambridge police, British Transport Police, Cambridge City Council, cycle campaign groups, retailers and Cambridge University, has been set up. A Cambridge City Cycling Unit is in the stages of being established, involving volunteers from the Special Constabulary.
The images published today kick start a regular gallery of CCTV images which will feature each week in the News as we team up with Cambridgeshire police to drive down the scourge of bike theft in Cambridge.
Sgt Horton has spearheaded a new crackdown on bike theft and has teamed up with councils, colleges and British Transport Police to bring the thieves to justice and drive home the cycle crime prevention message.
He says that some simple steps can stop thieves and can mean police are able to track stolen bikes and return them to their owners.
For too long bike thieves and gangs have plundered residents' cycles to sell for cash and drugs leaving victims furious and out of pocket.
Now the News wants victims to send in photos of their stolen bikes which can be posted in an online gallery of stolen bikes.
Photos of the stolen bikes with the frame number can be sent to our crime desk and we will try to reunite you with the bike – and help bring the thieves to justice.
Police are now appealing for information about the latest high value theft at Station Cycles which happened on September 11. Officers also want information about the bike theft at the guided busway in Longstanton on September 5.
Sgt Horton said: "Readers are to call police on 101 if anybody can positively identify these persons who police would like to speak in relation to any knowledge of these crimes."
Information can also be passed to Crimestoppers anonymously on 0800 555111.
Call Cambridgeshire police with any information about bike theft. To send a photograph of a stolen bike after reporting the theft to police, email newsdesk@cambridge-news.co.uk with the time, date and place it was stolen and the value of the cycle.
Police have issued the following tips on bike security:
Fit a Datatag Cycle Security System - a Datatag System doesn't just register your frame but protects your whole bike including forks, wheels and component. Using a Datatag System thieves know that they cannot erase details of the original owner so look for easier targets
Record bike details - not just the frame number. Make a note of special touches you've added or distinguishing 'scars' and take pictures - it all helps.
Use a decent lock - preferably one with Sold Secure 'GOLD' Standard. And don't just rely on one either, lock both the frame and wheels as close as you can to a bike stand - make it as difficult for thieves as you can.
Take parts with you! - saddles, seat posts and especially wheels are quick to sell on and without a Datatag kit have no ID marks. If you have quick release consider replacing them with secure skewers or take wheel etc with you.
Use recognised secure cycle parking - well lit, in a busy place and covered by CCTV. Remember thieves don't usually like an audience.
Don't be lapse at home - many bikes, especially the better ones are stolen from hallways, gardens and sheds so pay as much attention to security here as when out and about.
Buying second-hand? - don't give thieves a ready market, insist on proof of ownership and look for obvious signs like a high spec but low price - If it feels like a steal at that price... it probably was!
If your bike is stolen - because you've recorded all your bike details and had it Datataged you've a far better chance of getting it back -a report the crime to the Police and register your bike as stolen with Datatag.