Datatag Latest News
Tweet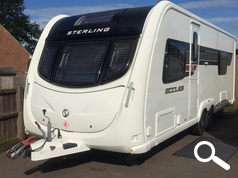 DATATAG ASSISTS SURREY POLICE IN SUCCESSFUL SITE RAID
Surrey Police recently carried out a successful raid at a location in Redhill, Surrey after acting on information that individuals had been illegally tapping into an EDF electricity supply.
Suspecting that the site also contained items of stolen plant Datatag Police Liaison and Training Officer, Nick Mayell, was invited to assist the team in checking items stored at the location. After careful examination of machinery and caravans found at the premises, Nick was able to confirm the identity of a JCB Beaverpack and two caravans.
The caravans were identified as a Sterling and a Abbey and were confirmed to be both stolen, one from Gloucestershire and the other from Surrey. The JCB Beaverpack was self-insured and on hire from GAP Group to Amey Construction, and thanks to some detailed investigation by Tim Booth at NAVCIS it was confirmed that both caravans had been subject to recent insurance claims.
Nick Mayell has worked for Datatag for a number of years and is an industry expert in the recovery of stolen plant, machinery and equipment. Thanks to his expertise gained over 30 years in the industry, he was instrumental in the recovery of over £20,000 of stolen items in this operation alone.
Nick said "Some of what I do does come down to simple experience but the use of Datatag technologies in the CESAR Security Scheme makes my job so much easier. It's almost impossible for thieves to totally erase a machines original identity and if there's a CESAR clue left anywhere we will find it!"
The official CESAR scheme, supported by the Home Office and ACPO is the number one deterrent and theft recovery system for construction and Agricultural equipment. The system works by marking each piece of equipment with triangular warning plates, forensic DNA Datatadots and transponders. All equipment is registered on a secure database. The CESAR registration scheme has helped plant theft drop by around 43%, this success has not gone unnoticed as all major machinery insurers offer substantial discounts of up to 25% for CESAR marked machinery.
Sgt Mark Devlin, the tactical lead for the operation said "We are very pleased with the outcome of this operation. Not only did we stop the theft of electricity by these individuals but with Datatag's help we also successfully recovered a number of stolen items. The use of CESAR is invaluable to us fighting this kind of theft."