Datatag Latest News
Tweet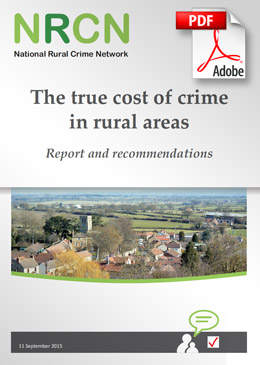 THAMES VALLEY RURAL CRIME PARTNERSHIP RESPONSE TO NATIONAL RURAL CRIME NETWORK REPORT
THE TRUE COST OF CRIME IN RURAL AREAS
With over 2.1 million people living and working within the Thames Valley and a significant proportion of these in rural areas, preventing, identifying and investigating incidents of rural crime is, and will continue to be, a policing priority.
For this reason, in 2011 the Thames Valley Rural Crime Partnership was formed with representation from a number of key stakeholders including Thames Valley Police, the National Farmers Union, Country Land and Business Association and the National Gamekeepers Organisation. The role of the Partnership is to provide coordination and leadership in tackling rural crime issues across Oxfordshire, Berkshire and Buckinghamshire.
Rural crime can have a devastating impact on victims both financially and emotionally which is why the Partnership is working closely with our communities to find ways of tackling this and we have had some great successes:

Thames Valley Police recently made its first successful charges on 'conspiracy to hare course' which was made possible by working more closely with local landowners
Illegal raves have reduced from 39 reported illegal raves in 2011 to one in 2015.  Working within the Partnership allowed this complex problem to be addressed
Local gamekeepers are regularly involved in joint operations with Thames Valley Police to help provide intelligence on poaching and hare coursing
The National Farmers Union and Datatag have run several training courses with Thames Valley Police officers on rural crime, an opportunity that came about through the Partnership
As the report correctly identifies, communication and engagement with rural communities is paramount which is why we regularly talk about rural crime across our various social media accounts, host Have Your Say Meetings, run joint operations with gamekeepers, and send regular crime advice and information through our Country Watch and Thames Valley Alerts system.
Thames Valley Police is also currently working to understand the unique elements of every community in the area so that police resources are targeted and effective as possible.  To allow for more targeted rural policing, the role of Rural Special Constable has been developed and will soon be advertised on the Thames Valley Police website.
Tom Cakett of the National Farmers Union and member of the Partnership, said:
"Thames Valley Police have made rural crime one of their priority areas and it really shows; confidence in the police has grown, and statistics show rural crime decreasing. I think a lot of this can be attributed to a greater commitment from Thames Valley Police, to engage with the rural community through initiatives like this and other events such as the Rural Crime Forums."
Anthony Stansfeld, Police and Crime Commissioner for Thames Valley and member of the Partnership, said:
"I made this a priority and rural crime is now falling in the Thames Valley with confidence in policing increasing in our rural areas.
"The recommendations in the report have largely been implemented in the last few years and Thames Valley Police and our partners are leading the way in tackling rural crime."
This report provides a picture of rural crime on a national level and whilst it provides useful insight, we would like to see the breakdown of results so that we can understand how these findings reflect the views of the communities in the Thames Valley region.
We are encouraged that many of the recommendations overlap with our current working practices, and we will seek to continue to improve the service we all provide as a Partnership.