Datatag Latest News
Tweet
REPORT: BRITISH CYCLING'S NATIONAL MTB DH CHAMPIONSHIPS 2015
Datatag were the event sponsors of the 2015 National MTB Downhill Championship from Llangollen. It is an undeniable fact that the UK currently has one of, if not the biggest pool of talent in downhill of any one nation. The National Champs is always going to be a big deal, regardless of the setting and the weather when you have the likes of Josh Bryceland, Danny Hart and Sam Dale all attending the same race. The fact that it just so happened to be on one of the most enjoyable downhill tracks we have on the circuit and the sun shone all weekend only heightened the stoke levels of riders and spectators alike.
A newly designed and previously never been raced on course was chosen for the weekend's event that, unlike the tight and rooty nature of the British Downhill Series track used earlier in the year, remained in the open heathland that forms the vast majority of the steep Welsh hillside. Originally built by the landowner Martin (who has an incredible knack for building turns considering he doesn't ride) in the depths of winter, the 'Son of Squirrel' track is a hybrid of sorts between the two other much loved trails that make their way down the open hillside and have seen many a high profile race in the past.
http://www.datatag.co.uk/bicycles.php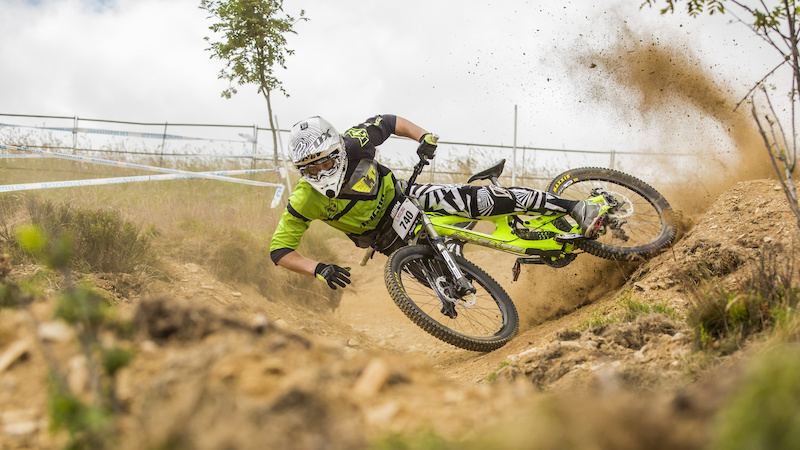 Riding for Kingud bike products, Matthew Snape gets a bit too loose up at the top of the course.
Although it may not be true for all racers, in my view the track is the most important factor for enjoyment, and this course was really really good fun. After a recent face lift by Rhys Evans and co who did all they could to make the countless catch berms and ruts race-proof. The track walk had a big grin on the vast majority of riders' faces. Who doesn't love smashing turns?
Starting with a flat(ish) flowing set of switchbacks up top, the course soon darted down the hill and lead riders into a series of steep, 180 corners with a few high/low and wide/inside line options to get racers thinking. About half way down there was a tricky stump-hop followed immediately by a sharp right hander that caused a few people problems, followed by some faster, longer rutted turns before things got fast dropping into the lower section of jumps drops and loose gravel turns.
It had been dry up at Llangollen for about a week prior to the race, and really quite sunny, something that both the soil and riders are very much not used to. It was very dusty come practice and the newly reworked berms and features had not had a chance to settle and firm up as I'm sure was the intention, leaving many riders shocked to find a big dusty hole where there once was a smooth corner. Things blew out very fast and resulted in a track that was getting increasingly difficult but no less fun. I think you would struggle to find an unhappy rider on the hill during practice day, and the uplift (which has always been an issue at Llangollen) was for the most part running very smoothly thanks to some hard work and sharp organisation by Mike Marsden, Martin and the team.
We all awoke to a seemingly very damp race site on Sunday morning, overnight rain and continuing drizzle had many people holding off from the first few uplift trailers as practice opened. The ground however was very very thirsty and sucked up the vast majority of moisture, the rain dampened down the dust and apart from one or two slightly greasy spots the track had more grip, was easier and a little faster than Saturday practice. Not a puddle in sight and another practice session with high stoke levels was enjoyed by all riders as the pace was lifted in preparation for what is the biggest race run of the season for the majority of attendees.
The sun broke through the lingering cloud as seeding started and riders were once again met with a whole load of dust, not that anyone was complaining. With Sam Dale posting the fastest time in seeding it was still all to play for in finals, the track was loose and it was easy to crash. It's the kind of wild track that has the potential to crown an unexpected champion and spectators lined the lower sections of the course to find out who would claim the famed red white and blue jersey of mountain bike legends past.

Morgan Tyrrell took win in the Juvenile Men category by a slim margin over Sam Cofano. The young rider hailing from South Wales (as mentored by the one and only Tom Owens) has really come on of recent and is starting to make a name for himself on the steeper tracks, taking the Llangollen BDS win prior to this. Jamie Edmondson rounded out the top three.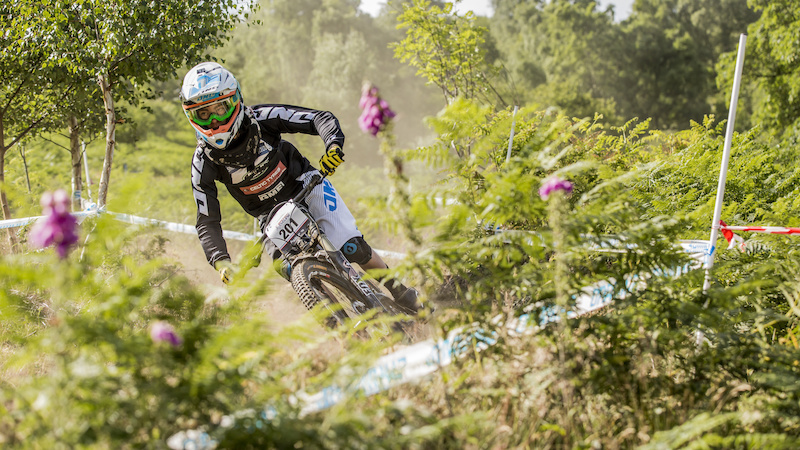 Morgan Tyrrell, Juvenile Men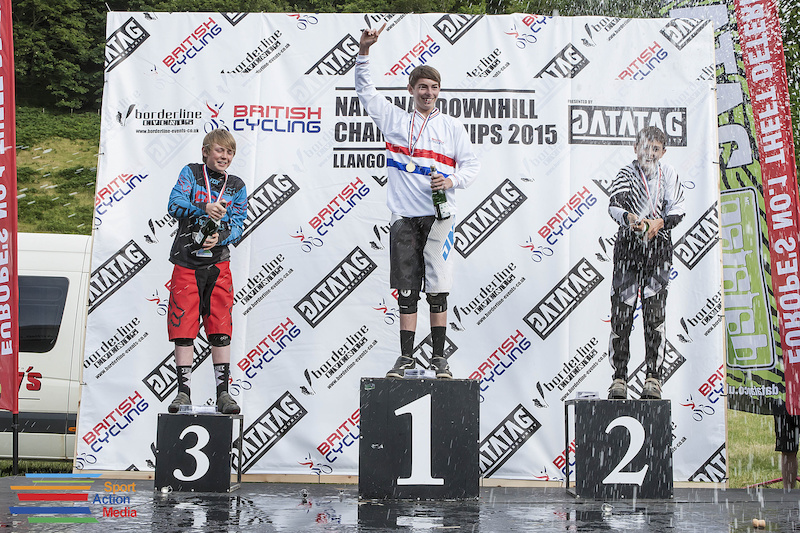 Juvenile Men Podium
The Youth Men category was dominated by the ever upbeat Matt Walker, the Madison Saracen Development rider has been pulling the pants down of half the Elite field at many UK races this year and was the hot favourite to take the jersey, he didn't disappoint and pulled a 4.7 second gap over Wideopenmag's Joe Parfitt. Luke Birkett beat some stacked competition and claimed the third step of the podium.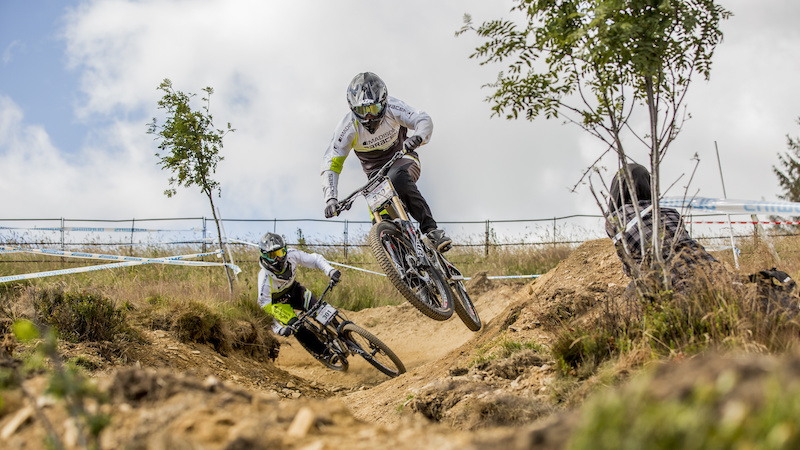 Madison Saracen riders Matt Walker and Jack Tennyson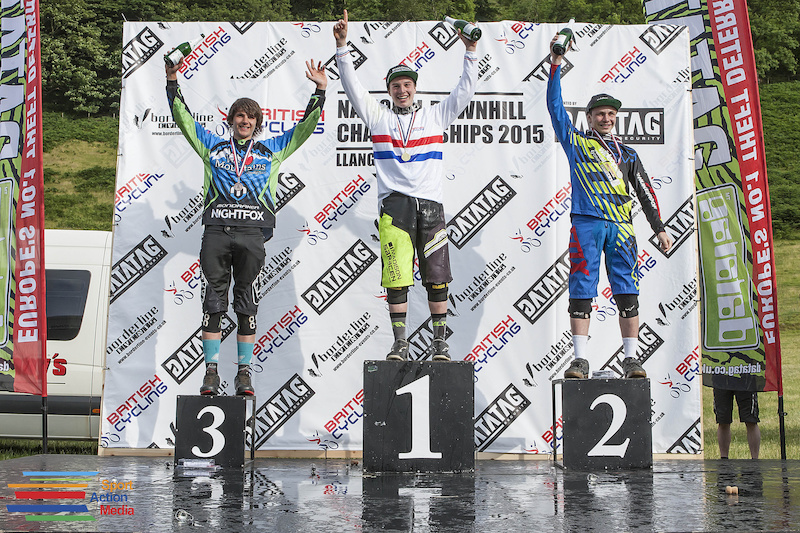 Youth Men Podium
Laurie Greenland of Trek World Racing maintained his brilliant form and followed a recent World Cup win with his third national champs title in a row! Putting some four seconds into second place, FMD Racing's Neil Stewart, and Frazer McCubbing racks up another solid result in third place.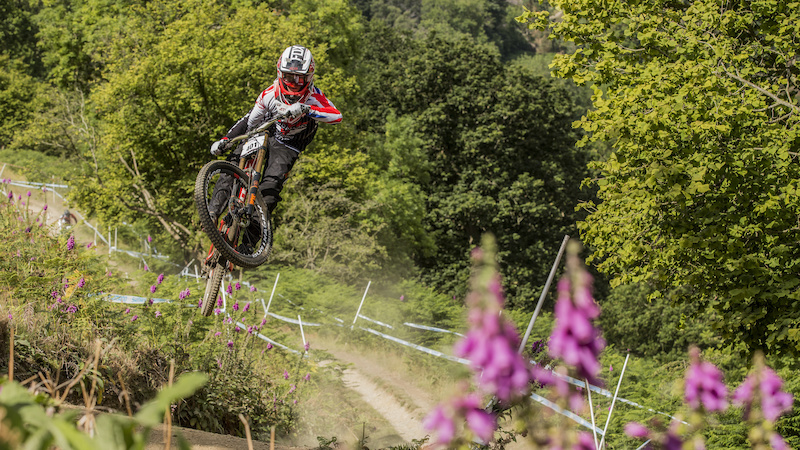 Laurie Greenland, Junior Men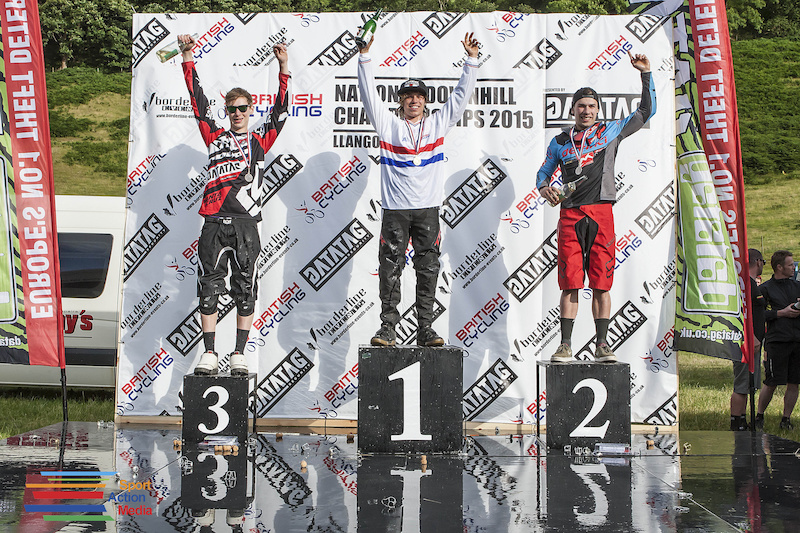 Junior Men Podium
Senior (Non Champs) was won by Conor Martin (NX2) who I'm sure will have his eyes set on moving up the ranks into Expert for the 2016 season receiving possibly the loudest cheers of the whole event by hoards of NX2 super fans. Kye Forte continued an impressive season with another win in Masters (30-34) taking the winners jersey with Dave list taking the 35-39 title.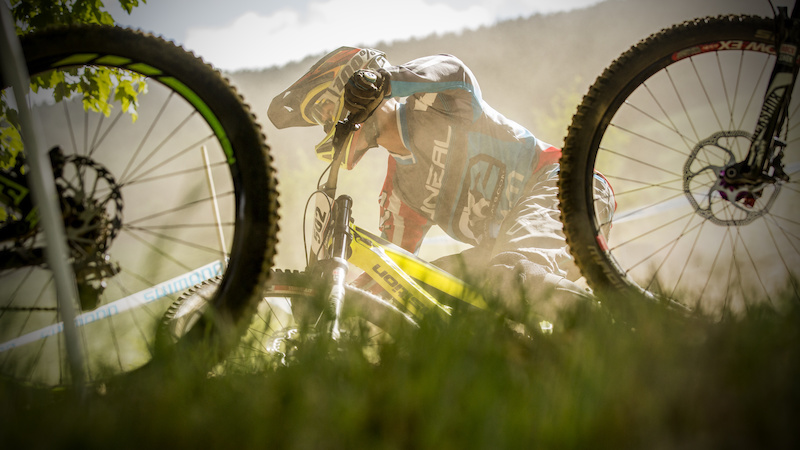 Conor Martin, Senior Non-Champs Men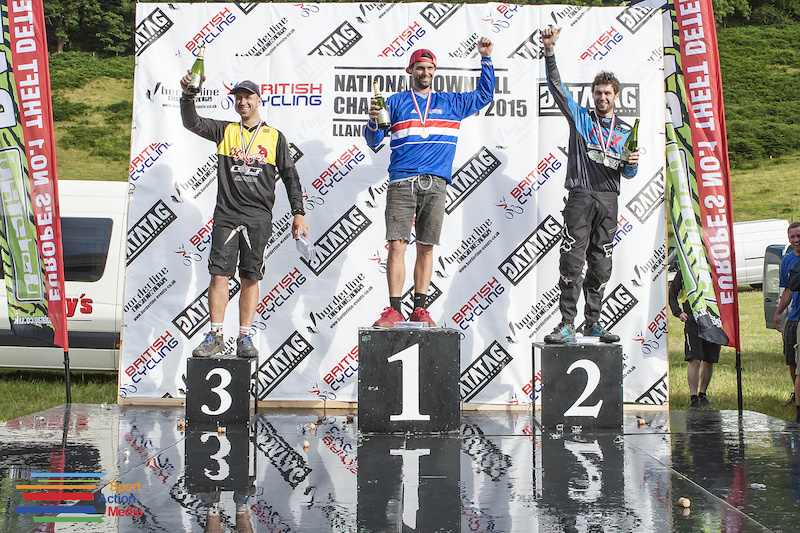 Master 30-34 Men podium
The battle of the balding team managers and jersey was won by downhill legend and Madison Saracen's mother duck, Will Longden with a time that would have been competitive in the Elite ranks despite missing Sunday practice due to turbo duties. Nigel Page of CRC/Paypal finished just 0.8 seconds back, with Chris Whitefield getting third place in Veteran men for All Terrain Cycles.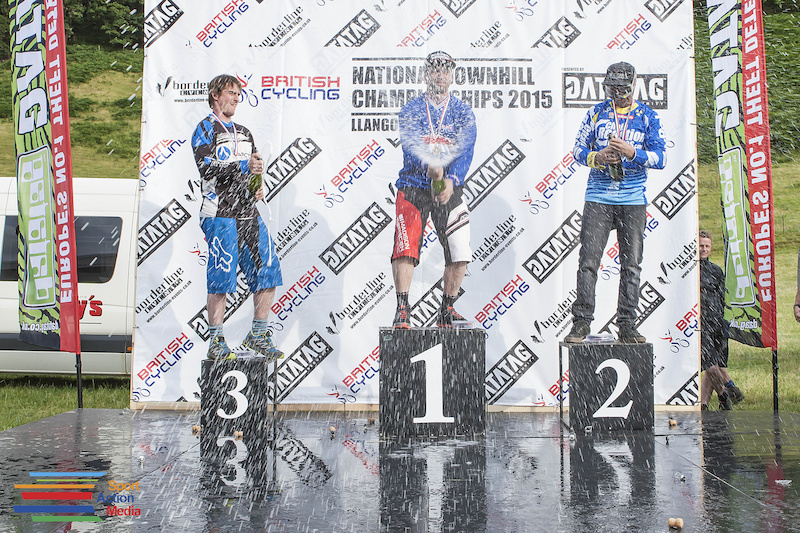 Veteran 40-44 Men Podium
The top three in Veterans 45-49 was made up of Pete Little in first, the most dangerous man in downhill, John Cobb in second and Rich Simpson rounding out the top three. Grand veterans was won by Steve Felstead, Howard Stuttard in second and Richard Binns in third.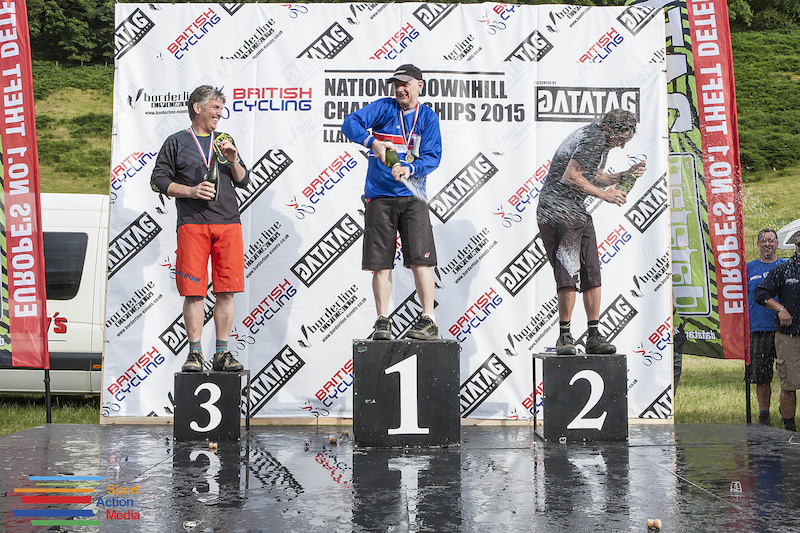 Grand Veteran Men Podium
The women battled it out in the younger categories with One Giant Leap Team rider Rosy Monaghan taking the 1st place by 28 seconds and therefore the winners jersey for Juvenile Women. Maya Atkinson in Youth Women riding for Gawton Gravity took the top spot by 1.5 seconds and Elena Melton riding for Cairngorm Cycling Club took the Junior Women's title and jersey. Lucy Drees stomped home in Senior Non-Champs Women with an impressive 17 second gap to 2nd place and in Master Women Hazel Wakefield took the top spot with TRG Racings Cath Tilford in 2nd and Shona Mckinnon in 3rd.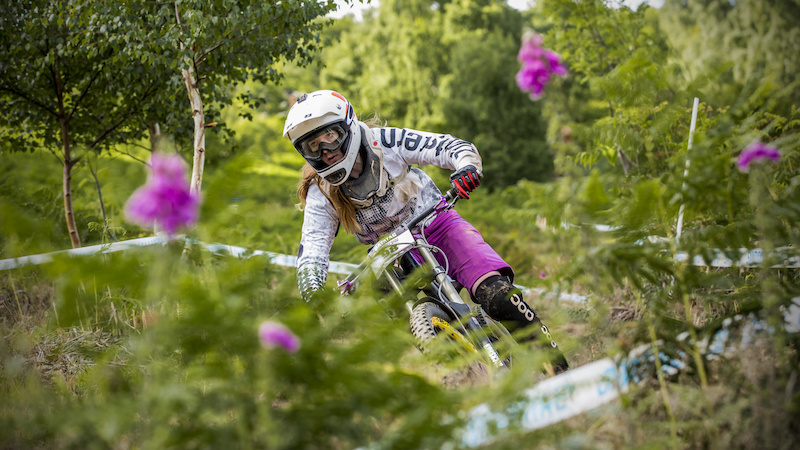 Elena Melton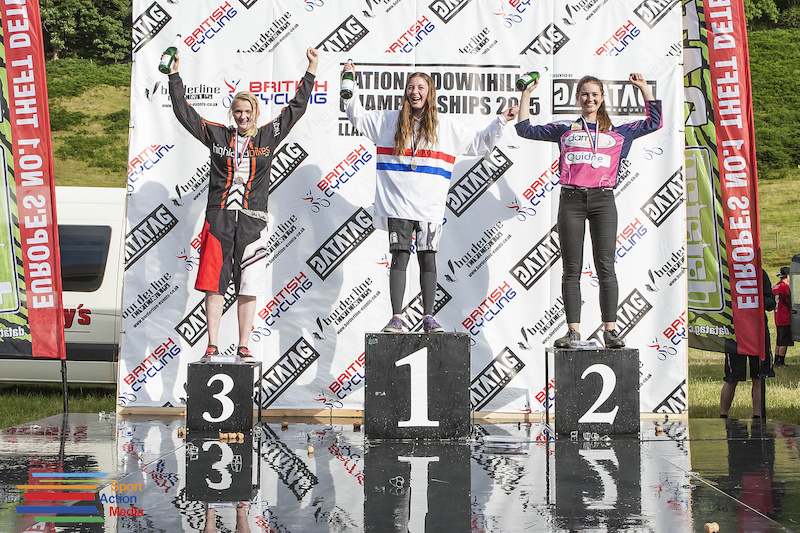 Junior Women Podium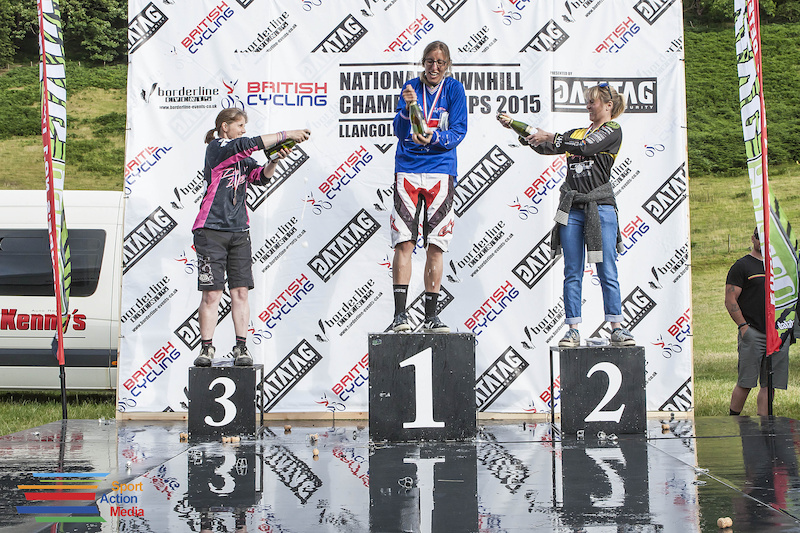 Master Women Podium
The Senior Women champs category was hotly contested with Tahnee Seagrave midway through a breakthrough World Cup season and on pace for a shot at the jersey. Manon Carpenter is back on track after some mishaps with finish line jumps and was hungry to get back to her winning ways. Rachel Atherton is on a roll at the minute and seems to be picking up confidence with every race, railing turns in practice and confident on the steep terrain. Rachel delivered and retained her National Champs title, putting 5 seconds into a respectable time posted by Carpenter who took Silver. Katy Curd took third edging out Tahnee to round out the podium, the 4X racer turned downhiller is having an impressive season and only seems to be improving. Rachel was the only rider in any category to take the fastest speed, split and and finish time for both seeding and finals.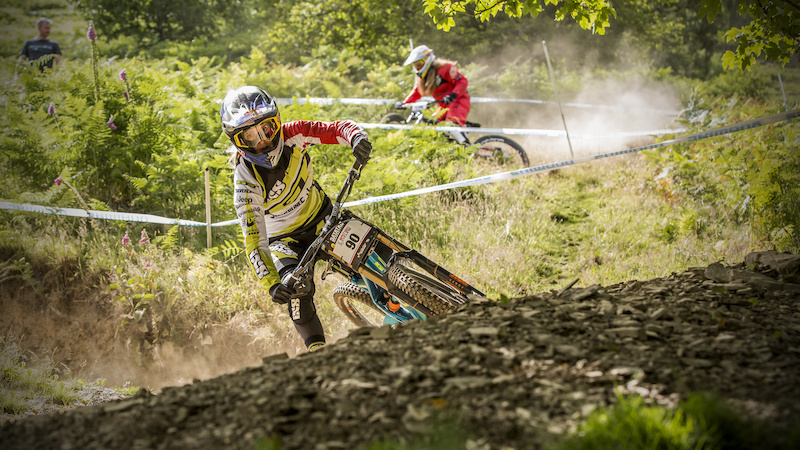 Rachel Atherton - 1st Place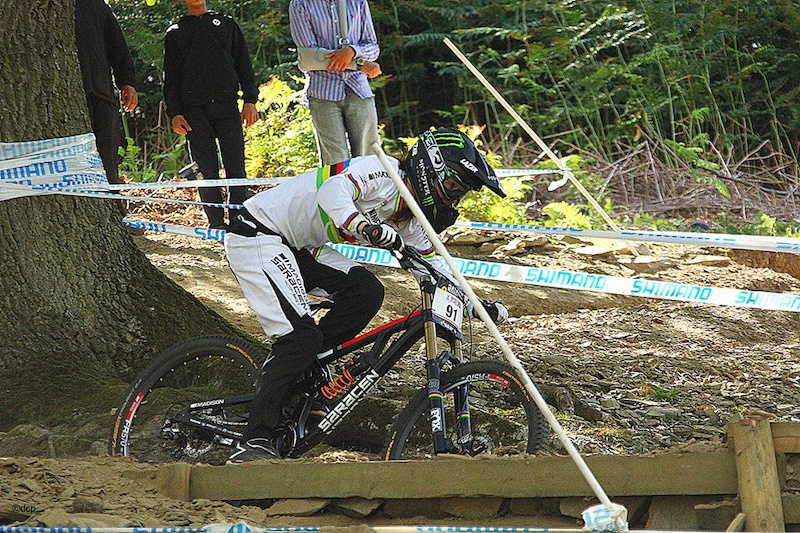 Manon Carpenter - 2nd Place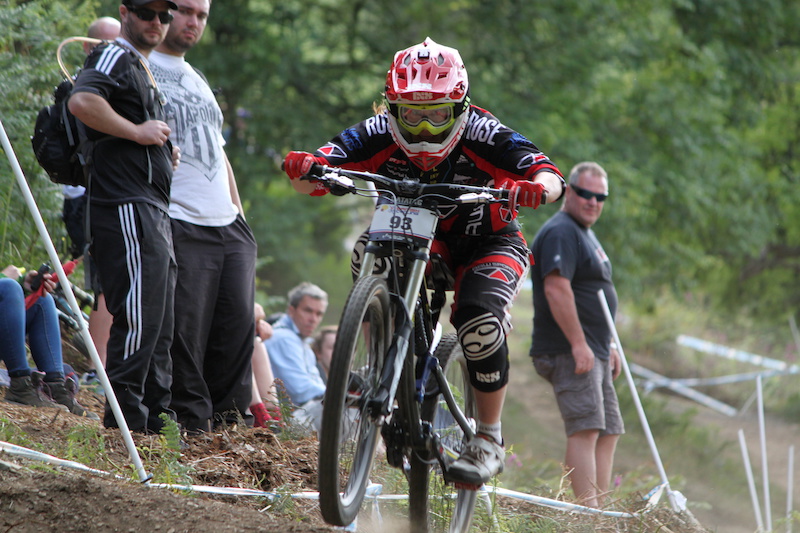 Katy Curd - 3rd Place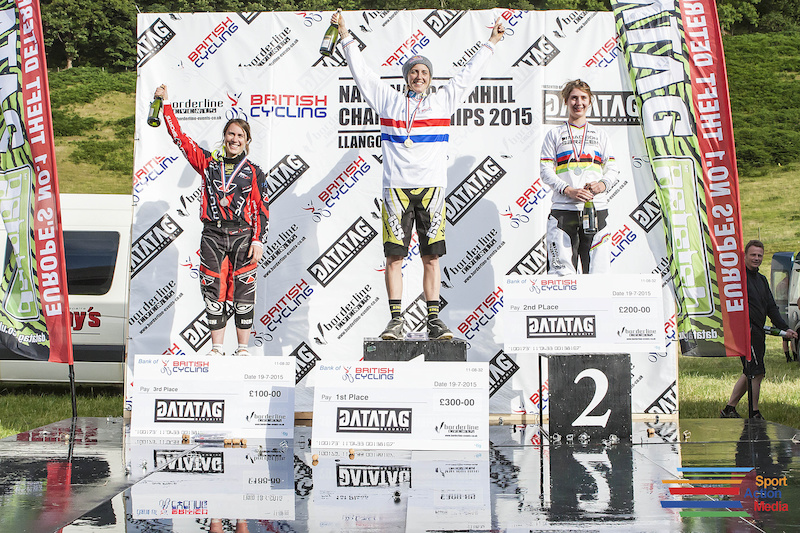 Senior Championship Womens Podium
The Senior Champs had too many contenders to predict with only an absent Gee Atherton and injured Steve Peat out of the running, Joe Smith was the talk of the pits all throughout practice. Joe is one of the best out there at smashing turns and the course would definitely suit his style of riding. Joe has had some impressive results earlier in the season, including wins at two previous BDS races, one of which was at this very venue. A wise man never counts out Ratboy and he was, for the first time in a short while, injury free and looking rapid. Mike Jones definitely has the ability to take the winning spot this year; Mike has firmly put his name amongst the top ranks in Elite. We know Danny Hart has buckets of talent and is never one to count out on the steep stuff, after that niggling injury picked up at Fort William has finally been put behind him, Hart was on form for a big result. Also let's not forget Ruaridh Cunningham who has won national champs at Llangollen before, and is on top form.

After some tight racing fifth was taken by Mike Jones. In my eyes it's only a matter of time before that number gets smaller. Jack Reading of self-managed race team One Vision Global racing put in a fantastic time, 2nd at the split and losing time on the bottom Reading surprised a few people this weekend coming away with fourth, an impressive result from the northerner, more to come from him in the future I'm sure. Ruaridh took Bronze for Unior Tools, and Sam Dale with a very close second place for Madison Saracen to the newly crowned British National champion, Danny Hart! A fantastic result for MS Mondraker's star rider who put in an incredible time to get down the blown out hillside in just over two minutes utilising an interesting use of the alternate (easier) line around the bottom drops. A decision such as that may have been the difference between winning and losing on this tight and blown out track.
3rd Place - Ruaridh Cunningham riding for Unior Tools
2nd Place - Sam Dale
1st Place - Danny Hart
All in all, Borderline put on an enjoyable, safe and well ran race that it's safe to say, we all enjoyed very much. Thanks to Mike and the team for putting on the show, and special thanks to Martin for continuing to develop one of Britains most progressive and enjoyable race venues. See you at the races, Will Weston (NS Bikes).
Roving reporter and racer, Will Weston - NS Bikes
Full results are available via the Results article. Check out the edit from Gee Milner here sponsored by Datatag - https://vimeo.com/134087112
A few words from the organiser, Mike Marsden from Borderline Events:
Before we sign off I'd like to thank a few people. Although as Event Director I'm watching and listening (and running around too), events such as the National Champs would not happen without such an amazing team. So a massive thank you to: John Thorpe of Farmer Johns along with Duncan Maffey who were course maintenance and general 'whatever needs fixing, doing, sorting including getting ponies off the track' (Yes a Shetland Pony was apparently biting the timer at the split). Paul Farley (Chief Marshal, Pippa Kimberley (Seeding and sign-on sheet prep), Steve Hardcastle who did everything from sign-on and pits to commentary and general runner. We also have Dan Henshall and TJ being general helpers and media, the timers including Gary from Pearce Cycles, Colin Olden from the BDS team and Sportstiming Systems. We cannot forget the BC Commissionaires who are the officials at the event - A tough job trying to keep things fair and done on a voluntary basis and perhaps under appreciated on occasion - so thanks to Kelvin Hoy, Brian Whitfield, Andrea Lockhart and Rich Robertshaw. The marshals and medics are obviously an invaluable part of the team and without these dedicated individuals the events don't happen. A big thanks of course goes to Martin Sands of One Giant Leap. Without people like Martin willing to share their bit of Welsh hillside, build uplift trailers and do a lot of work behind the scenes we wouldn't have places to ride as amazing as Llangollen. A final thanks goes to British Cycling for having faith in myself and the Borderline Team to run the National Champs three times on the bounce and of course to Datatag for sponsoring the event. I would like to apologise for struggling with updates in the latter half of the day but unfortunately our link went down (as is often the case in Wales) so we couldn't get the final results out as quick as we have had liked - other organisers suffer the same - you would think in this day and age that we should be able to get a connection in most places with at least one provider but only one was working all weekend and it went down both Sat then again Sunday - Sorry guys. This week we will put in our tender to run the event again in 2016 - Did you like what we did? What can we do differently or better? Your feedback is very much valued whether you're a team manager, helper, racer or whatever as the experience you have is important to us. We hope we reached a level you expected for such a prestigious event. Thank you to everyone that attended. - Mike Marsden, Borderline Events
Thanks to the photographers for providing their photos for this article; Phunkt.com, Alan Hayward, Burgtec, Mike Curd and Dave Clarkson. Thanks also to Datatag for supporting the event.
Article by Will Weston - NS Bikes. Additional words: Mike Marsden - Borderline Events