Datatag Latest News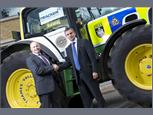 INDUSTRY LEADERS DATATAG AND TRACKER ANNOUNCE SECURITY PARTNERSHIP
TRACKER, the UK leader in stolen vehicle recovery, was appointed in May by Datatag, on behalf of the Construction Equipment Association (CEA) and the Agricultural Engineers Association (AEA), as a service provider for CESAR® - the official construction and agricultural equipment security and registration scheme. And now the 2 market leaders are promoting CESAR at CEREALS 2011, being held this year near Lincoln.
Kevin Howells, Managing Director of Datatag, had this to say at the announcement, "I'm delighted to have TRACKER on-board, supporting the official CESAR Scheme, who are able to offer equipment owners a comprehensive and an effective solution to the growing problem of theft by organised gangs. The Datatag system and CESAR Scheme are proven deterrents against theft and powerful aids to identification and recovery. The TRACKER products compliment equipment registration and security marking perfectly."
TRACKER will now be able to offer construction and agricultural machinery owners a one-stop service to fit CESAR and TRACKER at the same time-saving time as well as increasing the security on their valuable equipment. Many leading insurers are now offering insurance premium discounts of up to 25% for the combination of CESAR and a TRACKER system, meaning the investment in a TRACKER unit and CESAR is quickly recovered.
Stephen Doran, managing director of TRACKER comments, "As industry leaders in stolen vehicle recovery, the partnership with Datatag is a perfect fit. The theft of plant machinery is a huge problem in the UK. An estimated £1 million worth of construction and agricultural equipment is stolen every week, and 92%* of this is never recovered. The partnership allows us to tackle the issue head on and provide the first line of defence for equipment owners."
TRACKER recovers a staggering 68 per cent of stolen plant machinery within 24 hours of the stolen vehicle recovery (SVR) device being activated and 10 per cent of those are recovered within just one hour. Over the past 5 years, TRACKER has recovered more than £15 million worth of plant machinery and equipment.
TRACKER's products are operated by all 52 UK police forces in the UK. Using unique Very High Frequency (VHF) radio technology, police can track a stolen vehicle even if it is being transported in a van, hidden in a shipping container or parked underground. This is unique, unlike competitors' GPS-only systems that rely on being able to see the sky to determine the location of a stolen vehicle.
A machine registered with CESAR is fitted with a number of tamper evident registration plates and with its own unique identification and registration number. Along with this, a number of Radio-Frequency Identification (RFID) transponders are hidden throughout the machine. There are also has patches of forensic liquid DNA painted on to the machine in a number of locations. When registered with CESAR, a machine is also placed on Datatag's secure database which gives the police and other official agencies access to the registration information around the clock to aid identification and recovery.
Supported by the Home Office, the Construction Equipment Association, and the Agricultural Engineers Association, CESAR is a powerful and proven deterrent against construction and agricultural machinery theft, and an invaluable aid in recovery. CESAR registered machines are 6 times less likely to be stolen and over 4 times more likely to be recovered than non-registered machines. Thanks to CESAR the overall recovery rate, for stolen machines has risen from under 5% to over 8% with over 31% of stolen CESAR registered machines now recovered.
Doran concludes, "By working hand in hand with Datatag to fit CESAR and a TRACKER system, we can help equipment owners protect their assets and work towards eradicating this serious crime."