Datatag Latest News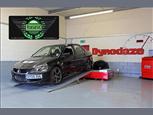 DYNODAZE FITTING DATATAG CAR SECURITY SYSTEM TO COMBAT CAR THEFT
Organized gangs of car thieves are now targeting specialised, modified, and high performance cars as the demand for their spare parts is high, especially 'universal' models that were sold across the globe. Once stolen the cars, which are often someone's 'pride and joy', are quickly stripped and sold for spares over the internet. So how can you stop your cherished car being stolen? You can't - but you can reduce the chances by taking some precautions and Dynodaze of Hinckley has just made that easier!
Dynodaze is a specialised business, in the performance car market, providing hi-tech dynamometer testing for car clubs and motoring enthusiasts. Dynodaze's Danny Harris does not sell anything that he doesn't recommend and he's just had hid Mitsubishi Evo 8 (pictured) fitted with the new Datatag car security system.
The Datatag system contains both overt and covert elements to give each vehicle a unique and multi-level 'fingerprint' that cannot be removed. The kit has sufficient elements to mark a wide range of components and if a vehicle is stolen and stripped for parts individual components, that have been marked, can still be positively identified.
The system provides everything necessary to give each vehicle its unique 'fingerprint'. An array of 'state-of-the-art' technology is employed including Radio-frequency identification (RFID) transponders, forensic DNA, Datadots, and UV stealth etching technology. Overt warning labels are provided as a warning to would-be thieves.
The Datatag system takes approximately 60 minutes to fit to the average vehicle. Proof of ownership and proof of identity of the vehicle has to be provided by the owner before the kit can be fitted. The Datatag car system secures a vehicle for life with a simple and relatively low one-off cost. There are no monthly instalments or annual fees to pay. Once the system is fitted and the vehicle registered, on the secure Datatag database, it's protected for life. If the vehicle is sold, the new owner can re-register the vehicle in his/her name for a nominal one-off cost.
Police forces up and down the country are already equipped with Datatag scanners that can 'read' the hidden transponders in a car to help identify the rightful owner even if the registration and VIN plates have been removed. The liquid DNA and microscopic Datatdots®, which are painted around the vehicle body and on various components, are impossible to remove completely and even the slightest trace can lead to a positive identification and recovery. The liquid DNA and microscopic Datatdots® are ideal for use on the valuable components that are easy to remove from the vehicle and to sell-on. These include alloy wheels, brake rotors and callipers, engine ECU's, data loggers, and aluminium radiators and heat exchangers. Datatag security will act as a deterrent to theft and aid in positive identification and recovery. One microscopic trace of liquid DNA is sufficient for police crime labs to positively identify the car the component came from and the rightful owner. The uniquely numbered stencils are designed for use with the special Ultra Violet chemical etching compound that's supplied in the kit. The stencils are designed to be used on ABS (Acrylonitrile butadiene styrene) plastic components like light clusters or glove box lids. The chemical etching process will also work on painted metal and plastic components.
The new Datatag car system has Thatcham Quality Accreditation (TQA®). TQA® is a robust verification programme for automotive products, equipment, and services. It concentrates on verifying quality in the manufacture, design, and performance of a product or service. Owners of modified and performance cars should check if their insurance company offer insurance premium discounts for cars fitted with the Datatag car security system.