Datatag Latest News
Tweet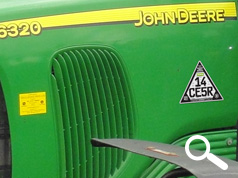 CHESHIRE OFFICER IDENTIFYS STOLEN CESAR MARKED TRACTOR & TRAILER
Datatag ID Limited, the power behind the official CESAR Scheme, has helped convict a Knutsford man found guilty of handling a stolen CESAR marked tractor worth more than £20,000. On 1st May 2015 Andrew Callwood, of Seven Sisters Lane Knutsford, appeared at Chester Magistrates Court charged with handling stolen goods namely a John Deere 6320 tractor. Callwood had previously pleaded 'not guilty' at an earlier hearing.
The court heard that on the afternoon of Tuesday 8th April 2014, PC Millar, an officer with Cheshire Police Motorcyclist Roads Policing Operations Team, was undertaking patrol duties on the A556, Chester Road, Northwich when stopped a suspicious John Deere 6320 tractor. The officer had noticed that there was no rear registration mark on the trailer and that it obscured the registration mark of the tractor. On stopping the tractor, PC Millar noticed further discrepancies with the tractor's vehicle excise licence.
The CESAR marked tractor and trailer were seized by the police and later examined by Cheshire officer Mike Dawber who specialises in stolen vehicle examinations. He concluded that the John Deere 6320 tractor had been stolen from Staffordshire in August 2009 after finding Datatag hidden identification technologies and checking the CESAR database.
Officer Dawber had attended a Datatag plant identification course last November at the AITS training facilities in Cirencester, Gloucester. The training courses, which are hosted by Datatag Police Liaison and Training Officer Nick Mayell, are IMI accredited and prepare officers with the latest know how in tackling this type of audacious crime to help secure convictions.
The court heard that Andrew Callwood had been in possession of the stolen tractor, which he had claimed that he had bought with no receipts or paperwork for £5,200 in 2012. The John Deere 6320 tractor had been valued at £28,500 at the time of the theft by the insurer NFU Mutual.
Magistrates did not agree with Callwood's explanation and he was found guilty. Receiving a fine of £2048.00 plus costs of £620.00, Callwood also received 125 hours unpaid community service.
PC Mike Dawber, stolen vehicle examiner with Cheshire Police said 'This sends out a message that rural areas are not a soft touch and if you are involved with committing rural crime in Cheshire or elsewhere, that irrespective of time, we will track you down and put you in front of the courts.'