Datatag Latest News
Tweet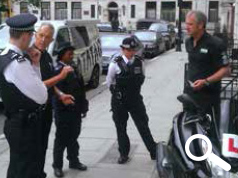 TACKLING CRIME IN WESTMINSTER
Crime in Westminster dropped by 14% in 2013-2014 and the council is always working on new ways to make the city even safer.
Reducing motorcycle theft in St. James's Square
In late 2014 council officers, the police and security marking specialists Datatag, pent the day on St. James's Square, a motorcycle theft hotspot, offering riders the opportunity to add security markers to their bikes at a reduced rate. The process deters thieves and helps the police recover vehicles if they are stolen. The council has also installed ground anchors in the Square for riders to chain their bikes, helping to bring thefts down to zero.
Working with offenders to improve the local environment
As part of the Community Payback scheme, offenders make amends for their crimes by working in the local community. In 2014 offenders painted 100 bollards along Villiers Street and removed graffiti to improve the local area, painted railings on the Brunel Estate and removed litter from around the Queen Mother Sports Centre.
Helping young people to break free from crime
Tackling youth violence is a top priority for the council and our Integrated Gangs Unit (IGU) works with young people to help them end their association with gangs. In 2014 the IGU worked with gang member John*, 20, who was at serious risk of violence, to keep him safe and move him away from gang activity. The team met regularly with John to talk about his options for exiting the gang. Once they'd gained his trust they were able to build up his confidence, prepare him for interviews and even find job opportunities in the city. He has since found full time employment and still meets with the IGU to move his new life forward.
*Name has been changed.