Datatag Latest News
Tweet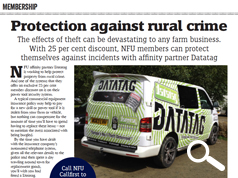 NFU - PROTECTION AGAINST RURAL CRIME
The effects of theft can be devastating to any farm business. With 25 per cent discount, NFU members can protect themselves against incidents with affinity partner Datatag.
NFU affinity partner Datatag is working to help protect property from rural crime. And one of the systems that they offer an exclusive 25 per cent member discount on is on their power tool security system. A typical commercial equipment insurance policy may help to pay for a new drill or power tool if it is stolen from your farm or vehicle, but nothing can compensate for the amount of time you'll have to spend having to replace these items - not to mention the stress associated with being burgled. By the time you have dealt with the insurance company's automated telephone system, given all the relevant details to the police and then spent a day trawling around town for replacement goods, you'll wish you had fitted a Datatag.
How does it work?
Each system contains a new unique ultra-destruct warning label with QR code and a bottle of 1000 Datadots®. The specially designed Datatag labels warn off any potential thieves, showing them that the tool is protected. They are both attractive and impossible to remove without damage. The Datadots® in a UV trace adhesive can be applied with a supplied brush to almost every part of the tool, giving it 1,000 identifying marks, impossible for a thief to remove, and easy for police to identify. Thieves know that Datatagged property is simply too hot to handle, and once they see your property is protected they will usually go looking for an easier target. The Datatag security systems incorporate an array of high security marking technologies which combine to identify and protect the assets that thieves are targeting, including power tools, tack, mountain bikes, trailers, 4x4 vehicles and farm house valuables. Datatag security systems give each piece of equipment a unique fingerprint that thieves simply cannot remove. This provides a powerful deterrent against theft and invaluable aid in recovery.
NFU and rural crime
Rural crime has been a growing issue and the NFU sits on the executive board of the newly established National Rural Crime Network which is supported by 18 police crime commissioners (PCCs). The NFU aim to ensure that rural crime affecting members is recognised at a national level. NFU regional director Richard Pearson said: "Rural crime has been a cause of real concern for many of our members across the North East, whether farming on the urban fringe or in remote rural areas. We have worked hard to encourage local PCCs to give a higher priority to rural policing so we welcome the launch of this new national initiative that should help highlight best practice, and focus precious time, effort and resources on delivering the results rural communities need and deserve." Datatag systems are easy to install and they have no annual fees or charges - a one off payment is between you and a lifetime of protection from the menace that is rural crime.
How do I claim my member discount?
Datatag is helping NFU members tackle the rise in rural crime by offering a range of exclusive discounts. To find out how to save up to 25 per cent on your Datatag security system, please call NFU CallFirst on 0370 845 8458 where the advisers will transfer you directly to Datatag to discuss your requirements.