Datatag Latest News
Tweet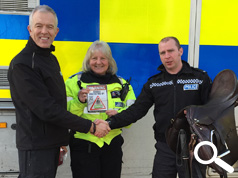 MOUNTED POLICE PROTECT SADDLES WITH DATATAG!
Thames Valley Police Mounted Section have added Datatag's state of the art technology to their expensive saddles.
The Mounted Section, established in 1985, is staffed by one sergeant, eight full-time police officers and four police grooms, all looking after nine magnificent police horses. The majority of the Mounted Section's work and time is dedicated to providing high-visibility patrols and playing a pivotal role in public order work.
The Mounted Section is also active and combating the growing problem of rural crime, with a particular focus on equine crime – something close to the hearts of all of the Mounted Section Team. The Section plays an active and supportive role in the promotion of Horse Watch and advising riders of ways to combat crime and reduce their chance of becoming a victim of theft.
And to demonstrate one of the simplest and most powerful ways of stopping a saddle getting stolen, the Mounted Section decided to protect all of their saddles with the new state of the art Datatag Saddle System.
Using a robust RFID tag embedded deep in the saddle and a high quality metal warning stud, each saddle is permanently marked. A thief would need to almost destroy the saddle to remove the tag, damaging the very thing that they want to sell! The system is easily installed and once registered on line on Datatag's secure database, will give any police officer access to all of the saddle owners details via a single telephone call to Datatags 24/7 call centre.
PC Kevin Simmons from TVP Mounted Section said, "A good well-fitting saddle is one of the most expensive and important parts of any horse riders equipment and having it stolen something that is not worth contemplating.  We are delighted to have our Police saddles marked with Datatag, not only for the added security it brings, but also to demonstrate how easy it is for other horse riders to take sensible precautions to make their own tack as undesirable as possible to criminals."

Dave Luscombe from Datatag said 'Thames Valley Police have been long time supporters of Datatag and the CESAR Security Marking Scheme for agricultural and construction machines so when got the call asking to help mark the Mounted Section saddles we were very happy and proud to assist. Having their saddles protected not only brings piece of mind that they are secure and now permanently identifiable, but also allows the officers to demonstrate how simple it can be to keep the thieves a bay!"