Datatag Latest News
Tweet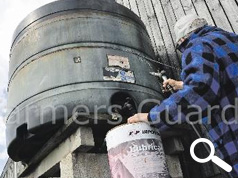 LAMMA 2015: LATEST SECURITY INNOVATIONS
Security is a growing concern in rural areas, and a number of exhibitors at Lamma shown some useful and innovative products to help beat the thieves. Jane Carley rounds up some of the latest kit.
Datatag ID, the organisation behind the CESAR security scheme, has launched a new product to address the growing issue of fuel theft.
Using its expertise in identification technologies, Datatag has developed the Venom forensic DNA identifier for fuel.
Fuel additive Venom can be personalised to the company, site or bowser and only a small amount of fuel is required to test in order to determine origination. Initial testing can be carried out by the police or trained staff within minutes at roadside.
Kevin Howells, Datatag managing director, says: "The issue of fuel theft is a billion pound headache for the UK haulage, construction and agriculture industries and causes untold additional costs in delays and environmental clean-up operations."
Prices to be confirmed.