Datatag Latest News
Tweet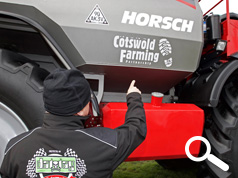 ADAM HENSON SHOWCASES HIS CESAR PROTECTED CROP SPRAYER AT LAMMA
Europe's largest agricultural show LAMMA which this year is hosted at Peterborough with over 900 exhibitors and regularly attracts over 40,000 farmers from around the country and overseas which this year, includes one of the largest crop sprayers in the UK.
TV personality Adam Henson who is a popular face in agriculture and an advocate of Datatag ID Limited and the Official CESAR Scheme has exhibited his latest CESAR marked & Datatag Protected Horsch PT200 crop sprayer at the show.

This huge unique 30 meter wide Horsch crop sprayer was CESAR marked by Datatag's own Police Liaison & Training Officer Nick Mayell.
CESAR, a proven deterrent against theft, works by giving each piece of equipment a unique and permanent identity using state of the art security marking technology.
CESAR, the official security scheme supported by the AEA and the CEA, also reached a milestone at the show reaching the 200,000 registered & protected machines, a John Deere Gator which was unveiled by Chris Wiltshire on the opening morning of the LAMMA show.
Kevin Howells MD of Datatag ID Limited commented at the show "I'm really pleased to see our security system on many leading manufacturers' machines around the show and it's always good to see a celebrity also endorsing our products. When we launched CESAR we had no idea it was going to be as successful but with our proven track record in reducing theft it is fantastic to see companies and individuals continuing to adopt the scheme."