Datatag Latest News
Tweet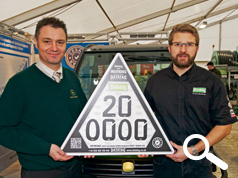 JOHN DEERE GATOR IS UNVEILED AS THE 200,000TH CESAR MARKED MACHINE AT LAMMA 2015
CESAR, the official security scheme, supported by the Agricultural Engineers Association (AEA) and the Construction Equipment Association (CEA), reached a milestone today as the 200,000th registered machine was unveiled by John Deere at LAMMA, the popular agricultural show. The John Deere Gator XUV 855D utility vehicle was unveiled by John Deere's Tactical Marketing Manager Chris Wiltshire on the CESAR stand (503 in Hall 5).
CESAR, powered by Datatag ID Limited, was established in the construction market in 2007 and adopted by the agricultural market a couple of years later with AEA support. CESAR is the most successful industry security initiative of its kind anywhere in the world and it is fitted on production lines in the UK, Europe and the USA by leading manufacturers including John Deere, Massey Ferguson, JCB and Manitou.

CESAR, a proven deterrent against theft, works by giving each piece of equipment a unique and permanent identity using Datatag state of the art security marking technology, that thieves cannot remove linked to a secure 24/7 dedicated call centre.

Newly appointed director general and CEO of the AEA Ruth Bailey who witnessed the unveiling said, "The AEA continues to fully support CESAR, and our members who fit CESAR, in combatting opportunistic and professional thieves who prey on British farmers. CESAR has proven to be an extremely effective deterrent against theft and an invaluable aid in recovery. Britain's farmer now benefit from reduced insurance premiums thanks to the 'CESAR effect'."

John Deere announced at the unveiling that they are now offering CESAR as an optional factory fit to all of their utility products for the UK market. John Deere, who already protects their extensive tractor range with CESAR, decided to take the initiative one step further due to customer demand and because of the success of CESAR in reducing tractor thefts from dealers and end users.

Kevin Howells MD of Datatag ID Limited commented after the unveiling, "I'm extremely proud that CESAR has reached another significant milestone. When we launched CESAR back in 2007 we could not have conceived of it success, in terms of adoption by leading manufacturers, or in its success in reducing theft. I'm also extremely pleased that John Deere has decided to expand their support of CESAR and introduce it as an optional factory fit for their utility products. I have every confidence that this will be as successful for John Deere's utility equipment as it has been for their tractors."

The CESAR system for the John Deere utility machines uses the same Datatag security marking technology and registration process as used on Deere's tractors.