Datatag Latest News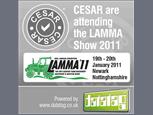 CESAR® GROWS ITS PRODUCT RANGE AT LAMMA (STAND G57)
The CESAR stand at LAMMA is in the 'green zone', adjacent to Hall 8, stand G57. As well as showing the benefits of the full CESAR kit and compact CESAR the stand will feature the innovative Lincolnshire Police John Deere tractor that is used to raise awareness of rural crime.
Hot on the heels of a record year CESAR heads to LAMMA set to announce a new 'compact CESAR' for smaller equipment. With over 40,000 CESAR registered machines working in construction and agriculture the scheme is the largest, and most successful, of its type anywhere in the world. In 2010 over 15,000 machines were supplied fitted with CESAR, the best year ever for the scheme. And in Agriculture the increase in fitment to both new machines and in the aftermarket was marked. Adam Henson, of the popular BBC programme Countryfile, was one of the many farmers to invest in CESAR in the year. Adam was shown on the programme, which regularly attracts over 6 million viewers, having CESAR fitted to his tractors as a powerful deterrent against theft.
The physical constraints of smaller pieces of agricultural equipment, including ATV's, generators, mowers, and power packs, have made fitting CESAR difficult but now a solution is available in 'compact' CESAR. Utilising the same multi-layered approach as the full CESAR kit this new product uses, firstly, a single robust triangular registration plate that is securely bolted to the equipment. Secondly, a number of RFID transponders, each the size of a grain of rice, are hidden in the equipment each with its own unique programmed code. Thirdly, the equipment has patches of unique Datatag forensic liquid DNA painted on to it in a number of locations. The liquid DNA has microscopic Datatdots® suspended in it which are invisible to the eye. It's literally impossible for thieves to remove all the tell-tale identification traces from CESAR registered equipment. Fourthly, all relevant information is recorded on the secure CESAR database for the lifetime of the machine. This gives the police and other official agencies 24/7 access to the registration information, which is an important aid in identification and recovery. CESAR is proving its worth as a deterrent, as an aid in recovery, and as a cost effective solution with the one-off cost of fitting CESAR being off-set with insurance premium discounts of up to 25%.