Datatag Latest News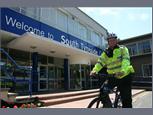 ON YOUR BIKE !
South Tyneside College students and staff are being urged to claim free bike security devices to avoid being taken for a ride by thieves.
Free datatag systems are being given away to students courtesy of police in South Tyneside and the council's Community Safety Team. The tags contain a microchip which gives bikes their own unique electronic identity and, when registered with Datatag's national database, helps them to be easily tracked if they are stolen.
The initiative comes following a spate of recent cycle thefts across the borough where the bike has been left unattended and insecure. Cyclists are being asked to make sure their bikes are always left safe and secure, whether inside a shed or garage or while out on the street. PC Tom Slade, Neighbourhood Beat Manager for South Tyneside College, said: "Traditionally we do see a rise in the number of bike thefts as the warmer weather arrives. "Students should take advantage of this offer to keep bike thieves at bay and increase their chances of getting their property back in the event it is stolen. "People can also avoid becoming the victim of a bike theft by taking some simple security measures such as having a suitable bike lock and making sure you use it when leaving your bike unattended, even for just a few minutes. "We do target known bike thieves, however, we would ask for the public's help to take steps to make it as difficult as possible for their property to be stolen."
Councillor Joanne Bell, Lead Member for Innovation and Safer and Stronger Communities at South Tyneside Council, said: "In light of these recent bike thefts we would certainly urge cyclists to be extra careful when leaving their bikes unattended. It is always best to take crime prevention measures such as using a bicycle lock whenever you leave your bike. However, a datatag provides an extra layer of security. "The tag makes it easier for the police to return bikes to their rightful owners if they are recovered after being stolen, as well as assisting in the prosecution of thieves. I would encourage students to take advantage of this offer and get their bikes tagged and make life as difficult as possible for would be bike thieves."
Students can claim their free tag by e mailing marketing@stc.ac.uk or by calling into the marketing office at the South Shields college campus.