Datatag Latest News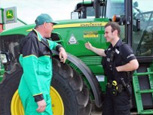 CESAR HEADS TO TILLAGE AND SALTEX
CESAR, the official agricultural equipment security and registration scheme, will be exhibiting at two important shows in the next few weeks. The first of the two shows is the three day Institute of Groundsmanship SALTEX held at the Windsor racecourse from Tuesday September 7th and the second the AEA organised Tillage 2011 which this year will be held near Lincoln on Tuesday September 14th.
CESAR is widely supported by the police, the Home Office, leading insurers and in the agricultural industry as a whole. CESAR is the only security scheme adopted by the Agricultural Engineers Association (AEA). Many leading equipment manufacturers including John Deere, JCB, Manitou, and Merlo fit CESAR as standard to machines sold in the UK.
With equipment theft on the increase leading insurers are urging the industry to take more care, and take more precautions with equipment of all types. Anything from a £100 'strimmer' to a £150,000 tractor is vulnerable to theft. CESAR is a proven powerful deterrent against theft and an invaluable aid in recovery in the unlikely event of theft. Statistics compiled by the insurance industry funded police unit PANIU show that CESAR registered machines are 7 times more likely to be recovered in the event of theft than unregistered machines, and 4 times less likely to be stolen in the first place.
The CESAR security marking and registration scheme was designed in conjunction with the police and the insurance industry. CESAR is made up of 4 elements. Firstly, the machine is fitted with 4 tamper proof triangular registration plates, which are securely fitted to the machine; with the machines own unique identification number. Secondly, a number of RFID transponders, each the size of a grain of rice, are hidden in the machinery each with its own unique programmed code. Thirdly, the machine has patches of forensic liquid DNA painted on to it in a number of locations. The liquid DNA has microscopic Datatdots® suspended in it which are invisible to the eye. It's literally impossible for thieves to remove all the tell-tale identification traces from a CESAR registered machine. Fourthly, lifetime machine registration, on Datatag's secure database, which gives the police and other official agencies 24/7 access to the registration information which is an important aid in identification and recovery.
CESAR can be fitted to any existing piece of agricultural equipment for around £120. As a final benefit to machine owners many leading insurance companies, including NFU Mutual, offer substantial insurance premium discounts for equipment fitted with CESAR.
See the web site for more details at www.cesarscheme.org