Datatag Latest News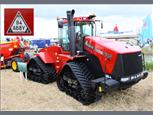 CESAR® MUCH IN EVIDENCE AT CEREALS 2010
The 2010 Cereals exhibition was held in blustery conditions near Cambridge June 9th & 10th. CESAR, the only official security and registration scheme for construction and agricultural equipment, was much in evidence with CESAR plates on many of the market leading exhibits including machines from John Deere, Case-IH, Caterpillar, Manitou, and McCormick Landini.Over 23,500 visitors attended the busy show.
JCB took the opportunity to launch 2 new radically revamped models in its 3000-series Fastracs at Cereals. JCB was one of the first manufacturers to adopt CESAR in construction and they announced that CESAR would be used on its wide range of agricultural machines from June of this year. Cereals 2010 was the first time that CESAR plates had been seen, in public, on JCB's innovative high-speed Fastracs.
Few machines come bigger than the 535 h.p. Case-IH 535 Quadtrac! But even this giant machine was fully protected with its own CESAR plate (see image). Case-IH has protected its demonstration fleet with CESAR plates, a powerful deterrent against theft and an invaluable aid in recovery. The CESAR scheme stand, manned by Datatag staff and representatives from the police, was busy throughout the show. With tractor thefts on the increase, and with the local areas in Lincolnshire and Cambridgeshire particularly affected, visitors were interested in the benefits of CESAR fitment and the insurance premium discounts available from the leading insurers, including NFU Mutual, who support the adoption of CESAR.
CESAR is widely supported by the police, the Home Office, leading insurers and in the agricultural industry as a whole. The CESAR scheme is the only security scheme adopted by the Agricultural Engineers Association (AEA). Roger Lane-Nott, Chief Executive of the AEA was an early visitor to the CESAR stand to lend his personal support to the initiative.
The police presence at the 2 day show included officers from Lincolnshire, Cambridgeshire, and the insurance industry sponsored Plant and Agricultural National Intelligence Unit (PANIU). Talks continued at Cereals, with other leading agricultural equipment suppliers, about the adoption of CESAR and further announcements are expected by the time of the Royal Highland Show in July.