Datatag Latest News
Tweet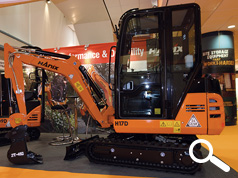 EHS ANNOUNCEMENT-HANIX ADOPT CESAR
Hanix is the latest construction equipment manufacturer to adopt CESAR, the world's most successful equipment security scheme for its range of mini-excavators.
Powered by Datatag security technology CESAR is marking 7 years of success in 2014. The now familiar triangular registration plate protects over 135,000 pieces of equipment. The 'CESAR effect' has reduced overall equipment theft by 46% in the past 3 years, increased the rate of recovery of stolen equipment by a factor of 6, and helped reduce insurance premiums on equipment.
The Datatag supplied CESAR security system works by giving each piece of equipment a unique and permanent 'fingerprint' using a mix of state of the art security marking technology that includes tamper evident triangular registration plates, Radio-frequency identification (RFID) transponders, forensic liquid DNA and microscopic Datadots. CESAR is a proven deterrent against theft and an invaluable aid in recovery. According to police statistics CESAR registered machines are 4 times less likely to be stolen than unregistered machines.
Hanix, which has gone through some recent changes, sees the fitment of CESAR as a positive step that will enhance the Hanix product offer. Making the announcement at the opening of the Executive Hire Show in Coventry Hanix's UK Sales Manager Paul Clarke commented, "We're delighted to be able to offer the popular CESAR scheme to our customers. CESAR has led the way in combating equipment theft in recent years and it has proved to be a very effective deterrent against theft and a useful aid in recovery." New Hanix mini-excavators supplied in the UK will be fitted with CESAR from mid-February.
For more information go www.cesarscheme.org or www.hanixeurope.com