Datatag Latest News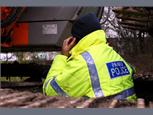 CESAR© SPONSORED POLICE UNIT GET THEIR FIRST CONVICTION
Two plant thieves are starting prison sentences after a successful prosecution by the CESAR sponsored specialist Plant and Agricultural National Intelligence Unit of the Met Police.
Londoners Bernard Connolly of Gunwhale Close, Rotherhithe, and Robert Smith of Kender Street, New Cross, received prison sentences of 20 months and 1 year respectively at Cambridge Crown Court for three counts of conspiracy to steal. The pair used a transit drop-side liveried in legitimate plant hirers Hewden's colours to dupe customers into parting with equipment, even though the vehicle never belonged to the hirer. The thieves came to PANIU's attention following the theft of equipment in Hertfordshire worth £23,000. Local police passed on the information and PANIU was eventually able to trace the vehicle with the false identity.
CESAR is the official plant and equipment registration scheme for construction and agriculture supported the Home Office, leading equipment manufacturers, and British Machinery Insurers Association. It provides the police with the ability to check on machines in exactly the same way as they would a car or van through the Police National Computer (PNC). PANIU officers are still keen to hear from anyone who believes they may have fallen victim to the thieves' ploy and have had equipment stolen.