Datatag Latest News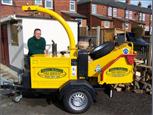 TREE SURGEON FOILS THIEVES AND TURNS TO CESAR® & DATATAG
A Wakefield tree surgeon foiled thieves who attempted to steal his Timberwolf woodchipper from a site in Wakefield. Simon Roberts jumped out of an apple tree and confronted the would-be thieves who were in the process of loading his £9,000 machine onto their Transit pick-up truck. Shocked at his approach the two men attempted to pass of their actions 'as a joke'. And now Simon has turned to CESAR supplier Datatag to safeguard his machine to avoid a similar confrontation in the future. CESAR is the official plant and equipment registration scheme supported by the Home Office, leading equipment manufacturers and the British Machinery Insurers Association.
Simon had this to say as Datatag fitted CESAR to his prized Timberwolf: "I'm shocked at the cheek of the thieves who attempted to steal my machine literally from under my nose. I was so cross I just jumped out of the apple tree I was pruning and marched over to them. They dropped the machine and started chatting. They mentioned Datatag and how they steer clear of machines with the triangular plate which is why I'm fitting CESAR now. I just want to go about my work without the agro and CESAR registration will act as the deterrent in the future, not me"! CESAR registration acts as a powerful deterrent against theft and an assured way of positively identifying a machine in the unlikely event of theft. Two highly visible triangular registration plates, with a unique number, are fitted to every CESAR registered machine. The widely adopted CESAR scheme provides the police with the ability to check on any registered machine in exactly the same way as they would a car or van through the Police National Computer (PNC). Organised and opportunistic thieves are aware that the triangular registration plate and hidden security devices, including electronic transponders, forensic DNA and thousands of 'Datatadots', mean trouble and so thieves shy away from CESAR registered equipment.
Recent official statistics show that CESAR marked machines are 4 times less likely to be stolen in the first place and 6 times more likely to be recovered, in the event of theft, than unregistered machines.
As a significant benefit to machine owners insurance premium discounts are available from leading insurers for machines fitted with CESAR, which offsets the cost of fitting the system to existing machines. NFU Mutual the market leading insurer in the agricultural sector offers 12.5% discount for CESAR equipped machines. A number of service providers, including the AEA, Enigma and Pirtek, are approved to fit CESAR to any type of agricultural, construction or industrial machine.