Datatag Latest News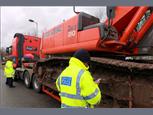 POLICE OPERATION UTAH RESULTS IN PROSECUTIONS AFTER VEHICLE AND PLANT CHECKS IN MIDLANDS
A joint operation by the police forces of Staffordshire, Warwickshire and the West Midlands, under the banner of operation Utah, was hailed a success by senior officers after it resulted in over 30 prosecutions for a variety of vehicle related offences. The operation centred on Tamworth and Stoke-on-Trent with over 100 vehicles stopped from the M42, A5, A50 and A500 during the day.
Officers from the specialist Plant and Agricultural National Intelligence Unit (PANIU) joined the operation to check on construction and agricultural plant movements. The now widely adopted CESAR plant registration scheme provides the police with the ability to check on construction and agricultural machines in exactly the same way as they would a car or van through the Police National Computer (PNC).
During operation Utah all the plant checks showed that machine movements were legitimate but organised criminals can never be sure that they will not be stopped. CESAR registered machines can always be identified, because of the hidden Datatag technology, which is one reason why recovery rates are 6 times higher, for CESAR registered machines, than for unregistered equipment. A previous police operation, Crassus in 2008, resulted in 2 stolen CESAR registered machines being recovered belonging to J.F Hunt Plant Hire.